"BBVA has created something unique, empowering startups like Azlo to grow"
Azlo is empowering a new generation of founders and entrepreneurs with the digital tools to access key financial networks and accelerate their economic opportunity. BBVA has incubated Azlo to help them achieve this mission and to better serve 'gig-economy' workers, that are currently underserved by the financial services sector.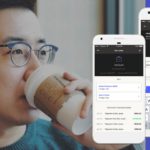 In this interview, Brian Hamilton, CEO and founder of Azlo –a startup that BBVA helped incubate in its New Digital Businesses unit in San Francisco–, talks about their vision and their goal to level the playing field for the growing number of entrepreneurs and small businesses who wish to participate in an expanding global economy.
What does Azlo do?
Azlo is a zero-fee banking platform for freelancers, entrepreneurs, and small businesses. Our accounts are online, and come with many of the services you would expect from a typical business bank account, including a debit card, ATM access, mobile check deposit, bill payments, and ACH transfers. Unlike other banks, we don't charge fees.
We also offer in-app digital invoicing. This means you can quickly send invoices to clients right from your bank account. We also provide the ability to directly connect to popular payment acceptance services Stripe and Square, with others coming soon.
We're also developing lots of other features, such as accounting integrations, international payments, and an API portal where you can access your account data directly without using our apps.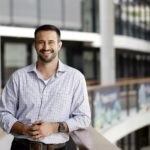 Brian Hamilton is founder & CEO of Azlo.
What makes Azlo unique?
First and foremost, Azlo doesn't charge fees like many other banks do. This is core to our vision of giving the next generation of entrepreneurs access to the benefits of the banking system.
Secondly, the entire onboarding process for new customers is done online. No banks in the US (where we're based) can currently provide this service. This means you can open an account and manage all your banking from your computer or your phone.
Why did you set up the business?
There's a sizeable opportunity, particularly in the US, to improve the day-to-day experience of entrepreneurs, founders, small business owners, sole traders, and freelancers by providing them with financial services products that are properly adapted to their needs. Traditional banks and financial services institutions just aren't properly addressing this market, because they struggle to equate their 'business' cashflow to their 'personal' account when in fact they are one and the same. And we know that this problem isn't unique to the US - it's a global one.
"Founders can be creative and disruptive, and run their company as an independent entity, while having an additional support network"
The entire digital experience of building a business isn't particularly advanced, and the process of opening a business bank account is even less so. There's great demand right now for services that better serve entrepreneurs, small business owners, and freelancers as more and more people are setting up on their own, as well as for products that support the increasing number of people employed in the freelance or gig economy.
Why did you decide to partner with BBVA?
BBVA as an organisation is unique, as is the ecosystem of startups it has built. The chairman, Francisco González, and CEO Carlos Torres Vila, are truly visionary - investing in some of the more disruptive aspects of the market and setting the agenda for the future of financial services.
Trying to bootstrap a business around core banking services is a very hard thing. I've worked in corporate venturing and in the traditional venture capital market in the past, and from experience I know that it always takes more money and time than you would anticipate to build the core product.
What BBVA has done is create something unique, empowering startups like Azlo to grow by providing access to tools, finance, and expertise. This enables the founders to be creative and disruptive, and run their company as an independent entity, while having an additional support network.
The proof of BBVA's impact is really in the people that have signed up to the vision and become part of its ecosystem. And for us, it's beginning to bear fruit – Azlo is going from strength to strength.