Open Talent has evolved from a unified competition for technological companies to one divided into categories that supports all kinds of entrepreneurs in innovation from many countries. It has developed every year since 2009 to help more new entrepreneurs.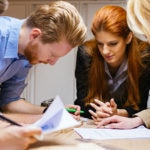 BBVA Open Talent was created in February 2009 as a new initiative by the Group to promote entrepreneurship in technology companies by supporting innovative projects.
A total of 375 projects took part in the first year. It was clear to the organization that there was a great interest on the part of entrepreneurs for an initiative of this kind. In fact, the first year of BBVA Open Talent closed with all the targets met in terms of media and social network activity, as well as the number of votes cast to choose the finalists.
One year later, the competition gave the chance to some of the winners to attend an event in Silicon Valley to present their project. As well as the usual monetary prize due to the winners of the competition, many projects were rewarded with the provision of services to help the market launch of the startups.
The competition has evolved from a unified event offering a single prize for technological companies to being divided into various categories supporting all kinds of entrepreneurs in innovation from many countries.
With their desire to innovate and get ahead, young people have always played a leading role in BBVA Open Talent. Proof of this is that in 2011, 44% of the projects were startups founded by entrepreneurs aged under 30.
Diversification, a key factor for growth
The division into categories started in 2012, when the competition was divided into two: Financial Services and Innovation & Technology. This development has continued right through the latest competition, when there were many more categories and awards.
One example of how the competition was becoming more comprehensive was its sixth year (2014), when regional competitions were included in Latin America and Europe, and two more categories were presented: Digital Banking and Digital Life.
Special categories have also been included starting in the eighth edition. Financial inclusion has become part of the competition, together with other categories, such as special prizes for female entrepreneurs.
The winners
In 2009 the winning startup was Pidecita. It is a young, innovative technology-based company that offers simple solutions for its clients. Its system manages online appointments for professionals and end clients, who are provided with a complete appointment management program, and can arrange appointments for users.
In 2010, the three winners were: Erasmoos, a social network for Erasmus students; Traetelo, an e-commerce project launched in Venezuela; and Frogtek, a social enterprise that develops applications for mobile devices.
In 2011, the winner was the startup Palbin. This is an online service that allows users to create a store in the cloud without the need for technical know-how.
In 2012, Wideoo, an Argentinean company, won the Innovation & Technology category as a startup that allows the creation of animation videos. The winner in the Financial Services category was StartBull, which provides its clients with a currency and stock simulator for the main Latin American markets.
In 2014, the winning votes went to Cúrsame, an online platform through which students and teachers can interact and share information with an educational and learning goal.
The winners in 2015 were both from Chile: Binetxo is a startup that provides payment solutions for small companies that trade with Asia; Destacame creates credit risk profiles based on the payments of its users' invoices.
Alegra, a Colombian startup, and Kobra, a Mexican startup, were the projects chosen by the jury of BBVA Open Talent from among the 17 finalists in Latin America in 2016.