BBVA uses AWS to deliver advanced analytics and data services in the cloud, taking a decisive step in its data and artificial intelligence (AI) transformation process. As part of its transformation into a data- and AI-driven organization, BBVA will use AWS to harness analytics and machine learning to transform its internal processes, improve risk management, drive growth, and provide innovative solutions for its customers.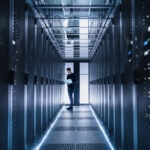 BBVA will leverage a broad portfolio of AWS analytics and AI services across its operations and create a new data platform that will be deployed globally, delivering a secure repository of BBVA's operations and customer data. This platform will provide internal business stakeholders with automated business and market insights, increasing operational efficiencies and attracting new customers.
AWS Lake Formation and Amazon DataZone will be instrumental in building, managing, and securing access to the data platform, ensuring data governance and compliance while spurring collaboration and information sharing across key business areas. By combining data lakes and data warehouses, the platform will provide business units at BBVA with a unified view of their data and access to more efficient data processing, analysis, and insights.
Amazon SageMaker will enable more than 1,000 data scientists at the BBVA AI Factory, BBVA's global development center that builds AI capabilities, and other data specialized units to build, train, and deploy machine learning models for any use case and to analyze data more efficiently. In addition, the platform will offer unparalleled scalability, flexibility, and efficiency in managing vast amounts of data for more than 2,800 data engineers and architects. BBVA will gain access to AWS generative AI capabilities and large language models (LLMs), including Amazon Bedrock, a fully managed service that makes foundational models available via an API, to explore the potential of advanced technologies and to help create innovative financial solutions.
"This collaboration with AWS and the construction of our new data platform represent a significant milestone for BBVA," said Ricardo Oliver, Global Head of Data Engineering at BBVA. "By embracing the power of AWS for our data strategy, we are improving our data management capabilities, making data available for everyone and leveraging AWS analytical capabilities to boost the impact of our data projects. This strategic collaboration aligns perfectly with our objective of becoming a true data- and AI-driven digital organization."
"Working with AWS, BBVA can use the most secure cloud computing environment to put data at the center of every application and process," said Scott Mullins, managing director of Worldwide Financial Services at AWS. "Financial institutions around the world rely on AWS to transform into data-driven companies that make business decisions faster and operate with greater confidence. With AWS, BBVA can harness its data to remain at the forefront of banking innovation, boosting its business insights and developing more compelling and personalized banking services quickly and cost-effectively."