Big Data Spain brought together more than 1,200 specialists in data analysis and science in Madrid for two days, during which it was made clear how this technology can bring a new dimension to any area: from marketing to user experience to economic and geopolitical analysis.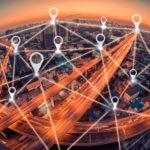 At Big Data Spain, the BBVA Group was represented by its principal brands, such as Datio, BEEVA, i4s, BBVA Data & Analytics, as well as the Data and Engineering Areas. All of them shared the important challenges BBVA faces in order to become a data-driven company.
Big data is already involved in the day-to-day work of many business areas of BBVA. One of these is BBVA Research, which for a long time has been incorporating the new data technologies into its analyses.
"Data science enables us to measure events about which up until now, we only had qualitative information. It contributes a new dimension, which allows us to complement traditional data in order to better understand what´s happening in society," said Tomasa Rodrigo, Head of Big Data at BBVA Research. Along with Álvaro Ortiz, Chief Economist for Turkey, China and Geopolitics, she delivered a presentation on how BBVA constantly monitors events, news and perceptions around the world.
The monitoring is done through a database called GDELT (Global Database on Events Location and Tone), which is able to identify the events with the greatest repercussion at any given moment and the tone of the opinions and news stories they engender. This database monitors more than 300 events, locates 30,000 topics geographically and also classifies the reactions to them. Its algorithm uses more than 40 sentiment dictionaries and is able to categorize 2,300 types of emotions. All this information is updated every 15 minutes.
"Big data gives high definition to economic analyses. Before, we only talked about countries; now, we can have analysis by cities, streets and even groups of individuals." said Álvaro Ortiz, who also underscored the importance of having access to information in real time. "These technologies make it possible to react immediately to situations of risk (now, there are data that are presented months later) and to attentuate their consequences before they become more serious."
BBVA Research gave some examples of how it is leveraging this new source of information:
Map of conflict intensity
It analyzes the number of conflicts and protests, and how they evolve over time and in different geographies. Conclusion: although it may not seem so, in spite of the current political crises, in the West there are fewer conflicts than in the 1980s and on the average, we live with less tension.
Migration flows
Europe has become the main destination for immigration, with Africa and Syria the principal zones of origin. Spain is far from the preferred destination of immigrants, with Germany and Italy standing out as favorites.
Perception of Spaniards in the world
Good news: in general, they think very well of us.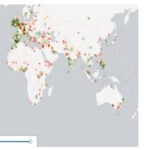 How Spain is perceived in different countries. - GDELT proyect and BBVA Research.
Measuring trends: the perception of big data in the world
This topic has been attracting increasing public interest. The most positive perceptions of this technology are in the United States, India and Indonesia.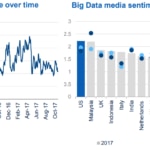 This graph shows how different countries perceive big data. - GDELT proyect and BBVA Research.
The impact of innovation on employment
This is a new study that BBVA is carrying out, in which it analyzes more than 50 technology topics and their impact on employment, according to the news media. The most optimistic people seem to be in countries that have the greatest amount of employment in technology, as is the case with India.
The map shows how innovation affects employment in different regions. - GDELT proyect and BBVA Research.
These are some examples of how BBVA Research is combining new data techniques with its traditional analyses, a process that isn´t simple and one that has to be learned. "Before beginning any big data analysis, it's very important to ask yourself just what questions you want answered. Otherwise, you risk getting lost in a deluge of information. And in the end, you have to present the information in a clear, simple and attractive manner." said Tomasa Rodrigo.
BBVA Research is already working on incorporating all this information into its predictive models, Ortiz said. "This is an enormous field that we are still exploring and which is going to improve the knowledge we have about all of society."