A survey by Euromoney reveals that the idea that blockchain recasts finance is no longer a media imposition, but a reality accepted in the sector.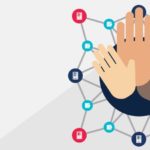 Using a sample of 118 institutions from the banking and financial sectors, Euromoney has produced a cognitive map of fintech companies and banks on the current state of blockchain technology.
55% clearly believe that the future lies in this technology, while 33% think that it is a determinant improvement. Only 11% regard it as a passing fad or one more technology innovation.
But, what future can the banking sector expect from blockchain technology? One far removed from public blockchain, the one that provides the backbone of bitcoin, which appeared seven years ago and at the end of last year announced its entry into the Nasdaq Linq platform. At least if we take into account the results of this survey, which predicts that banks will use private blockchains or with the participation of regulatory entities.
Fintech companies do not believe that this technology will herald the end of banks. 16% of those surveyed believe that blockchain technology marks the beginning of the end of large banks, while 45% think that its capacity to unify financial services will play a major role in the future, despite the fact that many will take longer to exploit and discover the technology.