Data creates value in an almost infinite number of ways
The ways in which businesses use data to deliver on their strategies is almost as varied as the sources of data themselves. This was one of the key messages from last week's Domopalooza event held in Salt Lake City in Utah.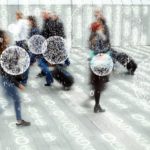 The event is staged by leading data analytics and insight business Domo and brings together a huge range of industry leaders, data scientists, strategists and of course customers. It is a chance for those who increasingly use data as one of the main fuels for growth in their sector to learn from others with often very different approaches to understanding what their customers and clients want, or could conceivably want, at some stage in the future.
BBVA's Global Head of Client Solutions, Derek White, was one of those speaking at the event, keynoting on the opening day. For White, one of the key metrics he outlined to an audience of 3,500 was how important it is for customers to be able to 'Do It Yourself' when it comes to banking - allowing people the freedom to bank when, where and how they want at any time.
But he also explained the importance this premise has for colleagues too - which is where third party tools like Domo come into play. Domo is just one of the data resources used by BBVA to analyse, iterate and remodel the performance of the products and services the business is producing, so it can adjust wider strategies to fit customer and client needs.
Take for example a particular product or service being offered. In the past when you launched something new, it could take months of gathering in data from the countries where you deploy it to assess performance.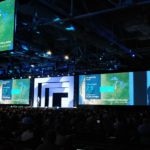 Derek White, Global Head of Client Solutions, during this conference to an audience of 3,500.
With tools like Domo, and the correct core business platform in place, you can aggregate your company data in real time, immediately assessing in an effectively interpreted way.
This in turn, using principles like Design thinking and the wider Agile methodology, which BBVA began incorporating into its business structure several years ago, allows the business to quickly intervene or iterate a product or service to make it more relevant to customers based on their specific data sets.
It's an approach others in the industry are benefiting from to, as a senior executive from Salt Lake City's Utah Jazz basketball team told the audience. He explained how they now use data mapping as a way to track the usage of seats during games - and how by feeding the data into it's business insights tools, it was able to see occupancy rates for individual seats during the year.
AI powered analysis algorithms then allow the management to contact the seats 'owners' and offer them deals to resell their reserved seat when they are not using it, meaning there are ultimately three winners - the club gets an extra sale, the seat owner gets a bit of revenue and someone else gets to see a basketball game.
Commenting, Derek White said: "This example really highlights for me the importance of both data sharing and ensuring a more shared value relationship around data exists. It's about using data to drive more value from one element of a business - in this case seat occupancy - and what we are increasingly seeing is there are an almost infinite number of ways data can generate value and support socio-economic growth."
White added that in BBVA's case, as it builds more and more smart interactions into its relationship with its customers, the business will accelerate the rate at which it can do the same - proactively offering solutions to customers based around the data they generate and their individual needs.
He said that whether this is analysing shopping or insurance or credit card data to suggest cheaper alternatives, or advising on things like making the right house purchase like BBVA already does through Valora - it all comes down to data.
He continued: "But as I explained last week, the key element is firstly, building trust and getting consent from the data's owner, the customers. Then secondly, having the right access in place to get hold of the data to work with.
"And it's here we believe businesses, regulators, Governments and indeed consumers too can work together to get the right rules and governance in place to encourage cross sector data sharing and through that, support innovation."