Fintech startups from Boston, Chicago take home top honors in BBVA's Open Talent final
Startups looking to disrupt the world of identity authentication and fraud prevention took home the top spots in New York during the first of three regional finals for the BBVA Open Talent 2016 competition.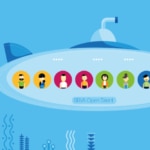 Cambridge Blockchain and Precognitive won 30,000 euros as part of their victory at Open Talent, a global contest sponsored by Madrid-based BBVA to identify the talent and ideas that will transform the world of finance. Cambridge Blockchain, founded by Matthew Commons in Boston in April 2015, is an identity management platform for financial institutions that eliminates redundant compliance steps while improving the customer experience. Precognitive is fraud prevention technology for electronic devices that combines artificial intelligence and behavioral analytics to detect and prevent fraud in real time. It was founded by Sam Bouso in Chicago in January 2016.
"Cambridge Blockchain and Precognitive underscore what this competition is all about," said Head of Open Innovation and Open Talent for BBVA Marisol Menéndez. "The ideas behind their companies are interesting and hold great promise for the world of finance. We're ready to work with them to explore the opportunities that we hope will help transform the industry."
Cambridge Blockchain and Precognitive were chosen by a panel of five executives representing different units within BBVA. Judges included BBVA Compass Chief Information Officer Gabriel Sánchez Iniesta, BBVA Compass Head of Business Development Pepe Olalla, Propel Venture Partners Senior Partner Ryan Gilbert, BBVA Head of UX Strategy and Partnerships Sanjay Shamdasani and Menéndez.
"Both winners showed great understanding of today's digital environment," Sánchez Iniesta said. "Fraud prevention is a core competency in any bank's digital transformation, and exploring the possibilities of the blockchain is considered just as critical."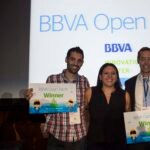 Head of Open Innovation and Open Talent for BBVA Marisol Menéndez with Sam Bouso (left) from Precognitive, and Matthew Commons from Cambridge Blockchain
The European regional finals will be held next week in London, and the following week, the Latin American regional finals will take place in Mexico City. In addition to their prize money, Cambridge Blockchain and Precognitive, representing the U.S. and the rest of the world, will join the four winners from Europe and Latin America in a two-week immersion course where they will network with BBVA executives and industry professionals in Spain and Mexico.
The eighth edition of the competition featured 56 finalists chosen from more than 1,200 startups in 17 countries. The New York regional final included 19 of the finalists.
"Finance is changing, with more startups coming up to take a part of banking's value chain, and consumers are responding," Menéndez said. "We think these disruptors are doing something right, and we want to understand and work with them, which is what Open Talent fosters. By working together, we make the experience better for customers."
Follow these links for more information on Cambridge Blockchain and Precognitive.