Flying, electric and autonomous: that is how the flying Airbus 'taxi' will be
Airbus continues its firm commitment to completely revolutionizing means of transportation. Like Spacex and Musk with their Hyperloop, Airbus reported that they've just successfully completed the first propulsion tests with their City Airbus demonstrator – a multi-passenger, self-piloted electric vertical take-off and landing (VTOL) vehicle designed for urban air mobility. The first flight test of the demonstrator is scheduled for end of 2018.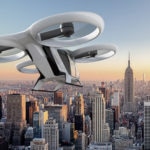 The chief engineer of the -CityAirbus- project, Marius Bebesel, was in charge of setting the timeline for this project that has just concluded the first tests of the electrical system. City Airbus will have the capacity of taking off and land vertically (VTOL) and will have capacity to carry up four passengers on fixed routes with a cruising speed of 120 km/h.
CityAirBus will be lifted by four propulsion units that move thanks to eight 100% electric 100kW engines. Designed to meet transportation needs in over congested mega cities, it will have an autonomy of 15 minutes thanks to its four 140 kWh batteries.
In the beginning, the aircraft will be operated by a pilot to ease certification and public acceptance paving the way to future fully –autonomous operations. Airbus plan is to have CityAirbus certified and operating in the skies by 2023.
15-Minute routes through large cities
Airbus's end objective is for these vehicles to provide service in large cities. The idea is to travel along 15-minute routes on pre-determined schedules, combining the main train stations, airports, etc. with certain central locations in a fast, affordable and environmentally friendly way.
Opening photo: Airbus