The startup glossary has acquired a new term to set those "unicorns" that have exceeded a valuation of $10 billion apart from the rest.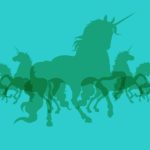 The world of entrepreneurship has a dictionary of its own, with terms that are sometimes out of reach even for the most proficient of participants. For as outlandish as it may seem, sometimes this dictionary gives you a better idea of the goals that are set when a startup is created. For example, many founders of these innovative, generally technology-focused companies, dream of seeing their brainchild turn into a unicorn, a term coined to refer to those new businesses that have reached a valuation of more than $1 billion in a very short time.
According to the research firm CB Insights, which analyzes the results of venture capital companies and new companies, today there are 258 businesses that have earned the name of this mythological creature. Consequently, some in the business have deemed it necessary to look for a term that differentiates the most prosperous of these startups, putting them into a category of their own dubbed "decacorns." But, what do these companies have in common? They are all valued at more than 10 billion dollars.
Per CB Insights' classification benchmark, today there are 14 decacorns around the world. This is the list, comprised of companies in three countries: The United States, China, and the United Kingdom.
Country: United States
Value: $68 billion
Field: Transportation network that connects vehicle drivers with passengers
Country: China
Value: $56 billion
Field: Transportation network made up of private individuals, Uber's competitor
3. Meituan-Dianping
Country: China
Value: $30 billion
Field: Restaurant reservations and concert/show ticket purchasing platform
Country: United States
Value: $29.3 billion
Field: Housing rentals between private individuals.
Country: United States
Value: $21.5 billion
Field: Private aerospace company founded by Elon Musk
Country: United States
Value: $20 billion
Field: Security software and application development to manage large amounts of data
Country: United States
Value: $20 billion
Field: Coworking Network
Country: China
Value: $20 billion
Field: Mobile application news service that uses machine learning to personalize data
Country: China
Value: $18.5 billion
Field: Online banking services
Country: China
Value: $15 billion
Field: E-commerce platform that allows users to make significantly discounted, joint purchases
Country: United States
Value: $12.3 billion
Field: Social image-sharing network
Country: China
Value: $12 billion
Field: Manufacturer of chips for cryptocurrency mining
Country: United States
Value: $11.5 billion
Field: Transportation network made up of private individuals, Uber's competitor
Country: United Kingdom
Value: $11 billion
Field: Data centers for IT infrastructure