Garanti BBVA and KAGIDER come together once again at the 2021 Meeting of Women Entrepreneurs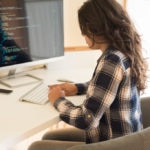 The event began with presentations by Recep Baştuğ, the Director General of Garanti BBVA, and Emine Erdem, President of the KAGİDER Board of Directors. In addition, the winners of past editions of the Turkish Women Entrepreneur Contest participated in the meeting and shared their stories, experiences and inspiring proposals.
Commenting on the event, Recep Baştuğ, Director General of Garanti BBVA, said:  "We have been promoting female entrepreneurship in all of its forms for the past 15 years. The equal representation of women and men and offering the same opportunities is one of the most basic principles of sustainability."
When referring to the initiatives related to the meeting, the Director General stressed that they have a team that is fully dedicated to female entrepreneurship which uses positive discrimination as the foundation. Furthermore, they do not limit their support of women entrepreneurs to financial support. Instead, the assistance projects cover a wide range of aspects designed to iron out the women's experience and incentivize their entrepreneurship, train them and guide them in their path to new markets. "The Women Entrepreneurs Contest inspires female entrepreneurs, and allows us to see new opportunities as a bank. We also collaborate on a professional level with the women entrepreneurs we have met at the contest," the DirectorGeneral explained. To conclude, she assured that Garanti BBVA will continue to support entrepreneurs for many more years to come. 
Meanwhile, Emine Erdem, President of the KAGİDER Board of Directors, explained that female entrepreneurs have difficulties accessing financing, markets and information ,and they do not receive any advice. "If that were not enough, they also lack examples that serve as inspiration. With the support of Garanti BBVA, we reduce these obstacles and present examples that capture the attention of the public and inspire other women," she continued.
The President stated that investing in entrepreneurs incentivizes them, solves their problems and develops their competitive skills. Offering more examples that would serve as a reference would accelerate Turkey's growth with the corresponding improvement in well-being. "If women could participate in the economy like men, we know that Turkey's wealth would grow by 30 percent," the President concluded.