How a virtual assistant develops a personality
Blue is pleasant, patient, and able to put itself in the shoes of others. It loves talking to humans and is always willing and ready to help customers. And it wants to learn lots of things in order to become even more insightful. These are just some of the personality traits that characterize BBVA's new voice assistant, which came to life out of a complex process that factored even the most minor details.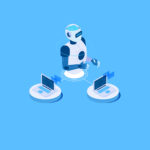 How old is Blue? What is its favorite movie? What music does it listen to? If these questions have an answer, it is because the BBVA team did an exceptional job at defining to the barest detail the personality of its new virtual assistant, Blue.
Talking to "bots" has become commonplace in today's world, though we rarely pause to think about the reasons behind their answers. Details that 'a priori' may seem irrelevant — like the fact that for Blue, age is nothing more than a number; that 'Dark Blue Almost Black' is one of its favorite movie titles; and that it likes to listen to George Gershwin's 'Rhapsody in Blue' — are nevertheless important and must be worked through because they help create the consistent whole of its personality. And it is critical to nurture this personality because it directly influences the way the virtual assistant interacts with customers.
When Blue demonstrates empathy, friendliness, and enthusiasm in its interaction with people, it is thanks to the design team who factored every level of detail into the creation process.
Defining the personality
The first step in the process of defining Blue's personality was a research and analysis exercise, which took into account market standards and best practices in creating a personality. This task was fundamental to making the progress that allowed Blue to move to the next step: applying the global model of personality traits, OCEAN. 
The team chose this model because it is the most predominant when classifying human personality traits. It measures aspects such as openness, conscientiousness, extraversion, agreeableness, and neuroticism. The team applied this model to conduct a test with Blue's personality traits, which had already been defined (positive, reliable, intelligent, a confidante, etc.).
The results of the test revealed that in both openness and extraversion, Blue scored around 60 percent. A positive (but not excessive) result, which was good news for the team who had aimed to deliver in Blue a moderate personality in these areas. As a banking assistant, it does not need an overly developed personality like other assistants that have multiple functions. Consequently, the aim was to give it an affable personality, complemented with easy and enjoyable conversation, but never becoming intrusive or dominating, given its role to assist and provide support.
In the areas of agreeableness and conscientiousness , Blue scored around 90 percent, reflecting a high level of personality traits concerned with social harmony and self-discipline. Finally, in the area of neuroticism or emotional instability, Blue scored the desired 0 percent. In short the results were aligned with the team's objectives.
Putting the personality into words
Once the ideal personality was established, the next step was to work on applying it to text. To this end, the team produced a list of styles that reflected this personality (grateful, practical, sincere, chummy, funny, etc.), which was to be used to create written content for Blue.
A system of conversational design based on two pillars — uniformity and flexibility — was developed in order to cater for the fact that Blue is both a "global player" and available via different channels. The predicament was that these pillars present different challenges: adapting the content to each channel at any given moment on the customer journey and covering the linguistic needs for each country.
To achieve this, the team created 'recipes,' a modular approach to creating conversations, which aimed to standardize Blue's interactions, (while respecting its personality) but also proving flexible enough to adapt to the local language, the channel, and the specific phase of the customer journey.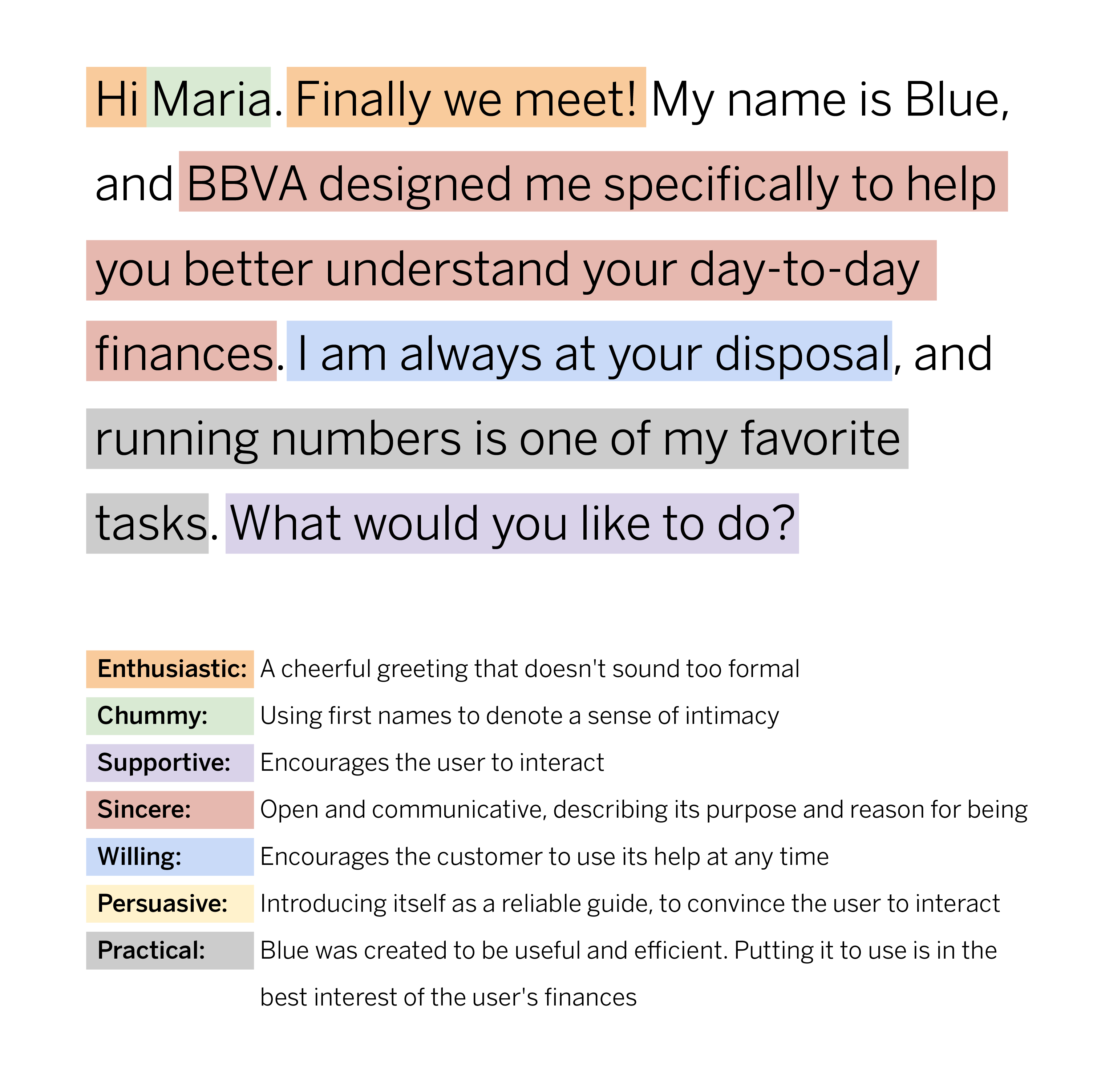 Example of a 'greeting recipe' with styles applied.
Setting the tone of voice
With the personality defined and embedded in the text, it came time to establish a tone of voice. As a starting point for doing so, the team used the four dimensions defined by the Norman Nielsen Group and decided to assign names to each as follows:

Dimensions of personality defined by Norman Nielsen Group to design the user experience of a brand.
With this as the foundation, the tones were developed into a system of equalizers (for adjusting a balance) with seven positions that varied in intensity.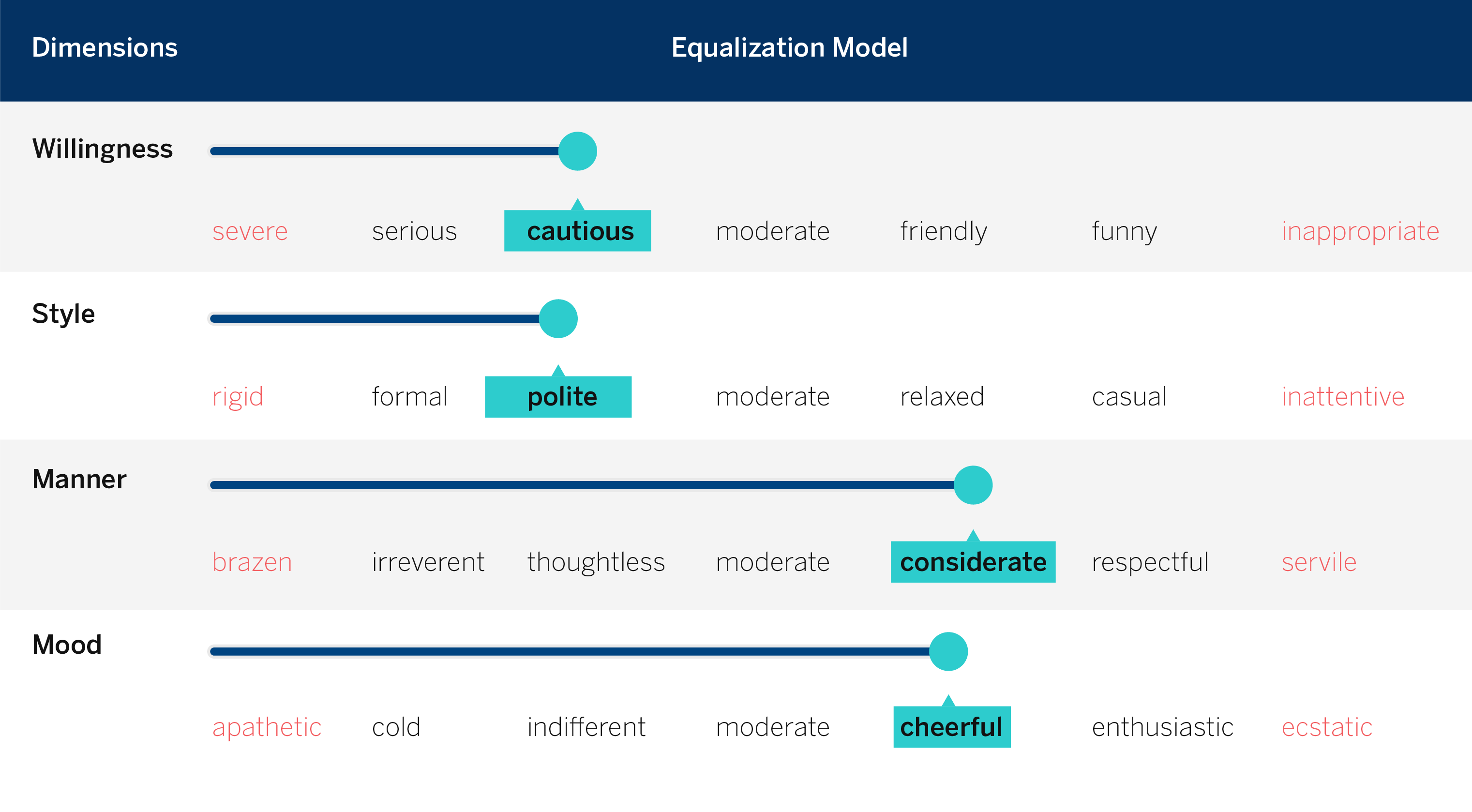 Example of how the tones would be used when a user is asking Blue for help.
When the tone hits the moderate or middle position it indicates that, according to the context, it can approach the tones on either side, but it does not mean that it is a mix of the two. The extreme side of the equalizers, in red, represent each end of the range for each dimension, but in the context of Blue, they are never reached.
The result of all this work is a pleasant, patient, and understanding personality. When it comes time to do its work, Blue is attentive and efficient. In its more relaxed moments, it likes to show off its witty side. It adjusts its tone to adapt to each point of the customer journey thanks to a conversational system that modifies Blue's tone based on linguistic particles that can be used (and reused) as appropriate, the same way visual components work.
Presently, Blue is up and running in Mexico and Spain, but it is envisioned that it will continue to be developed and rolled-out to other countries and channels, thus offering an alternative experience to BBVA's mobile banking offer.