How Artificial Intelligence can help fight COVID-19
Artificial intelligence is contributing to fight the COVID-19 pandemic. Projects directly related to pharmacology, medical and hospital care, or mobility analysis to reduce contagion have found a crucial ally in data science to make progress and deliver results.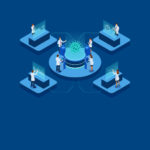 The pandemic caused by COVID-19 is the first global public health crisis of the 21st century. And today, multiple AI-powered projects based on data science, 'machine learning' or 'big data', are being used across a broad range of fields to predict, explain and manage the different scenarios caused by the health crisis.
AI is being used to support and help those making decisions. "No decisions, at any step, are fully and exclusive delegated on the algorithm," explains Nuria Oliver, data scientist, who holds a Ph.D. from the Media Lab at Massachusetts Institute of Technology (MIT) and is the Regional Government of Valencia's commissioner on AI matters.
Medicine, health management and public policies
In the context of the pandemic, AI is being applied and delivering results in three fields: in virus research and the development of drugs and vaccines; in the management of services and resources at healthcare centers; and in the analysis of data to support public policy decisions aimed at managing the crisis, such as the confinement measures.
As regards application of AI to research, work seems to be progressing at a modest pace. There are still many unanswered questions surrounding the virus. But scientific teams are not giving up and researchers break new ground every day. Scientists from Google-owned AI firm DeepMind are working to predict the protein structures of the novel coronavirus, which is essential to better understanding how it evolves and how to control it. Even to develop a vaccine in combination with the findings of other research projects.
Just a few weeks ago, the idea of widespread lockdown would have sounded preposterous. At one point during this crisis, over half of the world's population had been asked or ordered to stay at home. Cities have enforced mass closures of shops and schools. The reason? Reducing people's mobility and social interactions to slow virus spread and keep health systems from collapsing. In other words, to 'flatten the contagion curve', a sentence that has become one of the mantras of 2020.
These public decisions have been made based on data evidence. Data scientist Nuria Oliver is currently working on a pilot project that the Regional Community of Valencia is developing to analyze mobility during the COVID-19 pandemic based on the aggregated and anonymized datasets shared by the Spanish Statistical Institute and telecommunications service providers. "We've created a human mobility model to quantify and measure the impact of mobility during a lockdown situation and to understand what type of mobility has been reduced and to make decisions taking into account the data at our disposal," explains Oliver. In a second phase, both the mobility models and their findings will be assessed together with the SIR epidemiological models, which are used to trace how a pandemic evolves taking into account the number of individuals susceptible to the disease (i.e. not yet infected), the number of individuals infected and capable of spreading the disease, and the number of individuals who have recovered. This model allows quantifying mobility and forecasting how fast the epidemic can spread.
The third part of the project includes the conduction of a survey to better understand the situation of citizens, their social behavior, health condition and the economic impact of public decisions. "This project clearly illustrates how society and also Public Administrations can benefit from the use of AI. How they should transform to become more efficient by making data and evidence based decisions," Oliver explains.
"Machine learning and artificial intelligence algorithms allow us to diagnose and customize medical care and follow-up plans to get better results"
In field of primary healthcare, medical teams specializing in infections, epidemiologists and various experts have had to prepare for something new: a widespread health crisis triggered by an extremely contagious virus. In many cases, decisions on case detection, treatment prescription and ICU (Intensive Care Unit) procedures have been made without the required level of knowledge or evidence. Data science and big data are proving highly valuable for improving hospital management.
"Machine learning and artificial intelligence algorithms allow us to diagnose and customize medical care and follow-up plans to get better results," says Ángel Díez, CEO of Ubikare, a home healthcare application for the elderly. With the arrival of COVID-19, the company is focusing on understanding better how hospitals work and helping them deliver their services better. They have achieved this by adapting their software, data questionnaires, diagnoses and different algorithms.
"Once we get a database ready, we work with epidemiologists to, based on common patient variables, assess which management strategies do and don't work, to prescribe therapies." This is how Díez describes this initiative. He also underscores that having access to actual patient data boosts health professionals' ability to learn while reducing the threshold of uncertainty that affects decision making processes in a critical scenarios.
They currently have real-time data on 700 patients in Spain and collaborate with about 30 healthcare centers, including some of Spain's leading hospitals, including Hospital de Cruces in Bilbao, the Hospital Clínic in Barcelona and Gregorio Marañón in Madrid.
Learning from COVID-19 for the future
Two of the major questions surrounding COVID are if and when will things go back to normal and whether we should prepare for subsequent or new waves of coronavirus infections. Although no one has the final answer, thanks to data analysis we can better understand what and how it happened. Actionable knowledge to manage similar crises in the future.
Often, the best sources of data on citizen activity that can help to better gauge the impact of COVID-19 on, for instance, mobility or consumption come from citizen interaction with private companies, not with the government. "In this sense, collaboration between public and private entities and businesses, including academic institutions, are essential to enable access to these sources and turn data into actionable knowledge to make decisions that can help improve the situation," explains Álvaro Martín, global head of Data Strategy at BBVA. "In line with this idea, at BBVA we are sharing anonymous and aggregated payment data with different governments and research centers," he adds.
"I do hope we are building the infrastructures and processes to ensure that things flow more quickly and efficiently when the next pandemic occurs," says Oliver, who considers South Korea's response as the gold standard in readiness, a country that, after facing two major health crises earlier in the XXI century – the MERS and SARS outbreaks – has relied on technology to successfully contain the virus. "One of the actions they implemented in the wake of past health crises was to digitally prepare for a the possibility of a third epidemic. When the coronavirus struck, they already had the infrastructures that many other countries lacked, infrastructures which have probably played a key role in helping them keep the disease at bay," concludes Oliver.