MoodMe wins $10,000 from Launchpad Sweepstakes contest, courtesy of BBVA and Houston Dynamo
The Houston Dynamo and BBVA USA have announced MoodMe as the winner of its annual Launchpad Sweepstakes contest, giving the Houston-area startup $10,000 to enhance its operation.
MoodMe helps companies personalize customer experiences with face insights and face augmented reality while protecting privacy. For example, the company could use face recognition on a sports club's mobile app to provide unique insights on fan's emotions and demographics, turning the team's digital universe into an engagement platform.
"MoodMe is an exceptional startup that is committed to digital transformation and taking that concept to the next level," said BBVA USA Houston Director of Emerging Companies Ralph Miller. "As a bank that consistently focuses on digital transformation, our digital products, and enhancing the customer experience, we felt this was the best candidate in the Launchpad contest. That is a huge compliment, because all of our contestants had solid business models and innovative ideas in the digital realm. I want to congratulate our winning company and say thank you to our teammates at the Houston Dynamo."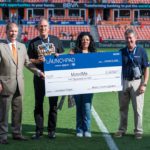 BBVA USA and the Houston Dynamo present MoodMe with a $10,000 check on October 6 for winning the Launchpad Sweepstake Contest.
As part of their winnings, MoodMe was recognized at the Houston Dynamo game on Saturday with their $10,00 check. The company will also have a chance to sit down with Dynamo and BBVA executives for consultation sessions on how to grow their business.
In past years, similar bank- and team-sponsored contests gave Houston small business owners a chance to submit their entries, detailing the nature of their operations and what they would do with their winnings. This year, the contest criteria included judging on how potential candidates would leverage the introduction of new technology to make their businesses more productive.