The top-selling smartphones and brands in 2017: iPhone leads the race
Manufacturers are working hard to ensure that their smartphones are bestsellers. It's a race in which the brands and models remain virtually unchanged. The iPhone 7 was the top-selling smartphone in the third quarter of 2017, with a total of 375.9 million devices sold. This represents a 5.9% increase over the same period last year.
The figures come from a report by the consulting firm Canalys, which lists the top-selling smartphones of the quarter ending September 30, 2017. At first glance, the ranking leads to two conclusions: the first is that only one device was released this year (Oppo R11) and the second is that the recently-launched smartphones (iPhone X, Samsung Galaxy Note 8, etc.) have not yet managed to carve out a niche in the market. The high cost could be a significant factor.
The iPhone 7 was the top-selling cell phone in the third quarter of 2017. With 13 million units sold, the iPhone 7 outsold the IPhone 6S – the second most popular – by nearly five million units, with 7.9 million units sold.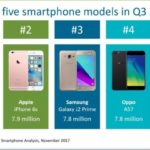 Apple seems to continue winning over cell phone users, although it is striking that the iPhone 6S ranks second, despite being a device that's three years old. This is proof of the fact that price remains a crucial factor.
In fact, 11.8 million people purchased the iPhone 8 – which was already on sale in the third quarter. This puts it below the 14 million people who purchased an iPhone 7 during the same period. Specifically, 5.4 million units were sold of the iPhone8 and 6.3 million were sold of the iPhone 8 Plus.
Samsung's low-end model, the Galaxy J2 Prime, finished third. The fourth and fifth place went to Oppo models, a brand that isn't very well-known in Spain and Latin America yet, but extremely popular in Asia.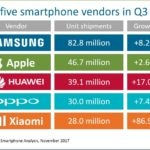 In terms of brands, Samsung remains the leader among manufacturers. The South Korean giant sold 82.8 million units –8.2% more than a year ago– with a 22% market share.
Its current flagship, the Galaxy Note 8, sold 4.4 million units. The "S8" continued its trend from the second quarter, selling 10.3 million units.
Nevertheless, Canalys feels that Samsung will have a hard time holding onto its empire as Apple, Google and Huawei have devices that could compete on equal terms with the South Korean brand's devices. The consulting firm also called attention to Samsung's apparent disadvantage compared to its competitors, in terms of artificial intelligence and augmented reality.
Oppo remained in the top five, with Xiaomi showing impressive growth. The brand is only seven years old, but has grown 87%. Its rollout in Europe could shake-up this ranking. We'll have to pay close attention.