Ride sharing giant Uber yesterday announced it was launching a new venture, Uber Money, becoming the latest big tech business to move deeper into financial services.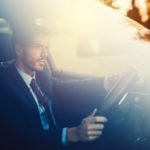 Uber made the announcement at Money2020 in Las Vegas after first highlighting how it had partnered with BBVA to launch banking services inside its app.
Uber has joined forces with BBVA in Mexico to bring banking services to customers, using BBVAs Open APIs, to allow Uber's driver partners to access things like real time payments and debit card spending within their app.
Announcing their new initiative, Uber said their focus was on trying to help everyone achieve their own financial journeys in life.
While details on Uber Money were light, newly appointed Uber Money boss Peter Hazlehurst said the emphasis initially will be on trying to support the brands 4 million plus partner drivers globally.
Following a successful pilot in the U.S., drivers will get access to a debit card linked to their Uber account, so they can spend their earnings directly from their app. Uber has also recently launched instant pay too, so their drivers now get the money from their rides paid to them immediately, rather than having to wait for it to go through the Uber accounting system, then transferred to their bank.
Asked to explain the move, Uber said it was a response to issues they knew their drivers and others in the gig economy had around access to financial services.
For example, Hazlehurst said what they had found with BBVA in Mexico was that 35 percent of their drivers coming on board had never accessed banking services before.
However, once they started using the app as a banking platform, they then started bringing in money from other places too.
He added that it was about helping people to achieve their own financial journey in life, echoing BBVA's stated purpose of bringing the age of opportunity to everyone.
But it is also an example of how technology is being used to help people working in the Gig economy who are struggling to make ends meet.
Tech giants are looking to make inroads into finance
Uber highlighted one specific area where it was helping people in this respect. Those using the banking app service can access a free $100 dollar overdraft everyday. This meant that those who start the day with no money, could at least fill their gas tanks with fuel and start earning, with that overdraft paid off once they start taking fares.
Uber's move, both with BBVA and now its global ambition, is yet another sign that tech giants are looking to make inroads into finance.
Apple recently launched a credit card with Goldman Sachs, and Amazon offers small business loans to its sellers.
Another tech giant, this time Facebook, was also on the stage in Las Vegas yesterday, outlining in more detail it's plans for both Libra, it's controversial blockchain based stablecoin, and Calibra, its digital wallet to enable this digital currency to be spent.
Addressing recent negative media around partners leaving the Libra project, David Marcus, co-creator of Libra and head at Calibra, said actually the business wasn't concerned as it felt those still onboard were the ones that now really understood the project.
Asked to explain what that project was, he said really it was about sorting out the fact that thirty years after the World Wide Web was created, he believed there was still no great way to move money around on it.
He added: "Libra is really a new payments rail allowing money to move on the web in the way it should, it's not a consumer facing currency, it's a payments network."
"You are going to get in and out of that currency when you want to move money around the world, so just as you might use WhatsApp or Messenger to send a message instantly, you can do the same now for money using Libra."