Voice, the preferred interface for the payments of the future
The maturity of artificial intelligence, the great efforts of large corporations, and the significant value it has for customers are some of the factors that will make this new "hands-free" payment method ubiquitous in only a few years.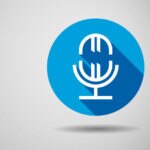 Making a payment by simply saying aloud to a device that you want to is a rapidly approaching reality. "I want to buy this product, Siri", will be a common phrase by 2022 when, according to Business Insider Intelligence estimates, four times more users will choose voice payments.
Whether via Siri, Alexa, other virtual assistants created by banks themselves (such as Garanti's MIA), or e-commerce platforms, every day more systems incorporate voice-recognition technology for making payments. These systems identify users' voice patterns in order to verify their identities and, thanks to artificial intelligence algorithms, are able to understand users' normal speech and conduct increasingly normal conversations with them.
Based on a survey by BI Intelligence, it is estimated that 8% of adults in the United States have used a form of voice payment at least once. This percentage includes the use of voice payment on e-commerce platforms (such as purchases on Amazon using voice-recognition systems), P2P payments initiated by voice commands, and bill payments by voice. Of these methods, voice payments on e-commerce platforms are the most common.
In addition, the same survey shows that this system will be adopted on a massive scale quickly. It is estimated that, within five years, i.e. in 2022, 31% of adults in the United States will have used some form of voice payment system, which corresponds to almost 78 million consumers.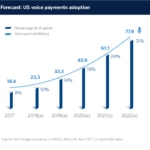 The growth factors
How can such rapid adoption be explained? According to BI Intelligence, three factors are driving this growth: the proliferation on the market of devices with voice-recognition systems, the strong value proposition this payment method offers customers, and improvements in artificial intelligence technologies.
Specifically, advances in two artificial intelligence subcategories have favoured popularisation of this payment form: natural language processing, i.e. the ability of computers to understand speech; and machine learning, which allows machines to learn from the contextual information they already possess. According to BI Intelligence, there will be further improvements in both areas in the next few years, which will lead to a more fluid and intuitive user experience.
Companies are learning how to capitalise on these advances. Google, Apple, and Amazon have already added voice payment to their virtual assistants. Amazon's device, Echo, orders take-out food or any product from its online store based on commands issued by the user. Recently, Google has reached an agreement with Walmart to integrate the customer accounts of the major stores with Google Express and the Google Home's voice-activated shopping service, which competes with Echo.
However, Amazon still has the more functionalities and its integration into the Amazon store facilitates payment management. According to eMarketer, 35.6 million Americans will use a voice-activated assistant device at least once a month this year. That's a increase of 128.9% over last year. Amazon's Echo speaker will have 70.6% of users. Meanwhile, Google Home will trail far behind with just 23.8% of the market.
Despite Amazon and Google's efforts to create their own ecosystems for voice payments, BI Intelligence found that the platform users trust the most is Siri. Of those surveyed, 29% trust Siri to make voice payments, whereas those only 17% and 12%, respectively, trust Alexa and the Google assistant to do so. For now, neither Microsoft nor Samsung have integrated voice payments into their respective assistants, Cortana and Bixby.
"MIA, pay this bill"
At the same time, many banks are developing systems compatible with these assistants, or creating their own voice platforms to manage bill payments and other transactions. This is true for Garanti, BBVA's bank in Turkey, which recently received a prize for innovation from the financial association Efma for development of the virtual assistant MIA ("Mobile Interactive Assistant"), an app that allows users to execute transactions such as transfers, payments, or inquiries via voice.
This example evinces a trend highlighted by Derek White, BBVA's Global Head of Customer Solutions, at this year's MoneyConf. He pointed out that the trend toward incorporating artificial intelligence will a major factor in changing the way people interact with their money in the next few years: "We are moving towards an environment of open collaboration, with APIs and 'hands-free' interfaces." As an example, he predicted that, by 2020, 30% of searches on web browsers such as Google will be done via voice commands, i.e. "hands-free".
The value of "hands-free"
Performing operations without even using one's hands or touching a screen or a keyboard is a trend that has clear advantages for users, the principal one being that it saves time. According to Business Intelligence, efficiency is the primary reason why users employ voice commands when using devices (54%). Of those surveyed, 50% stated that the reason they chose voice as their method of interaction was ease of use, followed by a desire to try things out (44%), having one's hands tied up (40%), and finding the method fun (28%).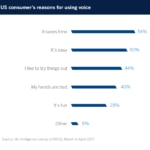 Voice not only simplifies transactions, it is also being used as an additional online banking security procedure. The mobile-only bank Atom, in which BBVA has an investment of approximately 29.5%, employs facial recognition along with passwords and voice recognition to allow its customers to perform any type of operation online or via a mobile device. Atom customers therefore only need to pronounce a series of words to make a transfer.