NFTs are unique and verifiable representations of digital assets, such as works of art, music, videos, virtual collectibles and other types of digital content, based on blockchain technology to guarantee their authenticity and ownership. Over 64 percent of those who purchase NFTs do so for profitability, while 12 percent are simply collectors.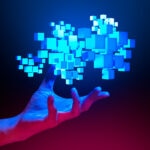 Traditionally, a person's estate is divided into money and other types of goods, such as their home or a work of art. On the one hand, money is a fungible asset, originally conceived to be spent ('gastar' (to spend in English) is the Spanish meaning of the Latin word 'fungi'). Although its price can vary based on different factors, a person that has a $100 bill will always have $100, even if they change it for another $100 bill, two $50 bills, five $20 bills or ten $10 bills. A cell phone, a washing machine or a pair of shoes are also fungible goods and therefore perishable but replaceable.
However, a person who owns a work of art has no intention of consuming it, spending it or dividing it into components. It also cannot be exchanged. Therefore it is a unique good. In the unlikely event that someone exchanged a Picasso work of art for two by Magritte, the sum of these two would not equal the representation of an identical Picasso painting. Thus, it is a non-fungible asset, just like incunabulum, an autograph by a historical figure or an archeological relic. In addition, its value fluctuates over the years. The first owner of the painting 'Blue Marilyn' by Andy Warhol (1964) paid $4,000. In 2022, it was auctioned for $195 million, making it the most expensive work of art from the 20th century.
With the outbreak of 'blockchain' and its ability to register all kinds of digital transactions on multiple, interconnected terminals, it has been possible to take this ability to collect unique objects to the digital realm.