Working for Our Customers: Cybersecurity experts work to serve and protect
Did you know? There are more than 1300 different roles within BBVA—and they all play a critical role in creating opportunities for our customers. Over the coming months, we'll be profiling some team members and sharing how they're Working for Our Customers.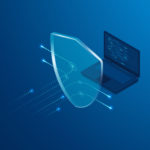 Shawn Sharp can tell you the second that digital traffic on the bank's website increases, and whether it poses a threat to the organization.
As part of the bank's cybersecurity team, the IT Security Analyst has been preparing to do this job since he was a kid watching family members in law enforcement don uniforms and shields. But his detective work takes place in the digital space, where safeguarding BBVA's operations from wrongdoers threatening its ability to meet customer needs is an increasingly evolving challenge.
"The cybersecurity team protects our customers and their assets, but also protects the bank's brand," Sharp said. "BBVA puts a high value on its digital products, and our job is to match that emphasis with an equally high focus on protecting and securing those assets."
Sharp joined the bank in June 2018 after completing an internship on the cybersecurity team. He was the first graduate in digital forensics at the University of Alabama Birmingham and had set his career goals on the financial services industry.
BBVA USA IT Security Analyst Shawn Sharp
"I've worked in law enforcement and I've also worked in networking computers," Sharp said. "This work brings together my two greatest strengths in a field that is constantly changing and offering new challenges and opportunities to learn."
As digital banking continues to evolve and more people and businesses conduct their financial activities in cyberspace, the need for specially trained individuals in cyberspace is expected to increase, according to studies. The types of cyberattacks, as well as the level of sophistication of the attacks, continue to advance, raising the stakes for companies around the world.
"The relevance of cybersecurity in banking cannot be understated," Sharp said. "We watch for phishing schemes, hackers, bots, malware of every sort imaginable, and nullify those potential threats, and work to help ensure they don't land at BBVA."
---
To explore U.S. career opportunities at BBVA, click here.
Click here to read more articles and stories about the bank's employees, culture and workplace efforts.