Let's talk Private Mortgage Insurance, or as it's more commonly known, "PMI."
If you're buying a house and in the process of obtaining a home loan, chances are good you've at least heard the term. Chances are even better you're acutely aware of PMI if you're planning a down payment of less than 20 percent, because PMI is the premium you'll have to pay to insure the lender against loan default.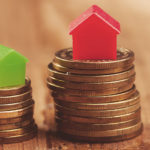 While PMI may seem like it comprises a large chunk of your monthly mortgage payment, it shouldn't necessarily be a reason to not buy a home. Consider the following:
Buyers pay less PMI the more down payment they make and the higher their credit score; and
PMI payments are often stopped when the loan-to-value ratio hits 78 percent.
So, while adding an additional amount each month for PMI is initially disappointing, keep in mind that if you hang onto the house for long enough, the monthly charge will eventually disappear. The burden will also feel much lighter by figuring the cost of PMI into your projected monthly payment during the home buying process. To help with this, BBVA Compass features a slate of mortgage calculators, including a down payment calculator, here.
BBVA Compass also offers some home loans that requires little to no down payment and no corresponding PMI. One such program is the Home Ownership Made Easy (HOME) loan program, which offers up to 100 percent loan-to-value with no down payment or PMI required.(1)
To learn more about PMI, check out this MoneyFit article, What Is PMI and How Can I Avoid Paying It?
To read more about BBVA Compass' mortgage offerings, click here.
To speak with a mortgage services agent from BBVA Compass, click here.
---
1 Requires a $500 contribution toward the transaction from the borrower's own funds.
Terms and Conditions apply to all mortgage loan products. Approval required.
NMLS ID 402936