A full-blown innovation ecosystem is blooming in Mexico, with startups popping everywhere on a daily basis, eager to put new technologies to work.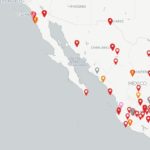 Despite the many hurdles Mexican entrepreneurs have to overcome – including access to financing and the lack of government support - the country's innovation network is exploding.
BBVA Bancomer's recently inaugurated Innovation Center has set out to identify the best ideas and talent in Mexico through this interactive map, which offers the geographical location of startups and other key players, such as investors and crowdfunding platforms, in order to help entrepreneurs secure the funding they need to get their companies going, as well as coworking spaces, calls for entrepreneur-focused challenges and awards, and the main media outlets and blogs covering all things digital.
One of the most innovative categories is the one devoted to the open-source Maker Community, which is using platforms like Arduino and Raspberry to develop its own devices. This trend is intimately linked to 3D-printing, engineering and electronics, which is building momentum across the world.
Pin your company on the map
But if the defining feature of this interactive map of Mexico's startup landscape is that it is intended to be living document. Any startup that wants to appear in it can do so by filling out the form provided on the side menu.
This initiative intends to provide a tool that helps companies, young people and institutions connect with key innovation agents in Mexico.
To learn more about the innovation and startup ecosystem in Mexico, please download BBVA's Innovation Center ebook.