Jordi Roca and BBVA launch El sentido del cacao ("The Sense of Cocoa"), a project to raise awareness of conditions affecting the sense of taste
BBVA and Jordi Roca, pastry chef at El Celler de Can Roca, have together launched the project 'El sentido del cacao' (The Sense of Cocoa), an initiative that aims to raise awareness of the series of conditions affecting the sense of taste and which affect up to 17% of the world's population. This project comes in light of a pioneering investigation based on neuroscience and sensorial management supported by, among other institutions, the Hospital Clínico San Carlos in Madrid and IOB Institute of Oncology.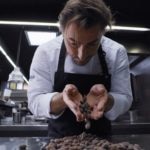 As part of BBVA's 'Creating Opportunities' programme, Jordi Roca and the financial institution have developed the first experience designed so that people with taste disorders can recover the memory of the sense of taste through one of the most evocative gastronomic products all over the world: chocolate.
The project, which is the centre of the documentary short El sentido del cacao, has the support of Hospital Clínico San Carlos in Madrid, the Sociedad Española de Neurología, IOB Institute of Oncology, the Red Olfativa Española, Instituto Cajal, the Fundación del Cerebro and Badalona Serveis Assistencials.
A disorder that affects the quality of life of one in five people
The origins of taste disorders, the medical conditions caused by failures in the gustatory and olfactory systems, can be very diverse and can arise from many different causes, from respiratory infections to cardiac and brain trauma or the use of medications such as those, for example, used in chemotherapy treatments. At present, it is estimated that close to one in five people all over the world (up to 17%) suffer from these kinds of conditions: 15% partially and 2% completely.
Depression, a sense of isolation and a sense of incomprehension can be some of the most common consequences of these kinds of pathologies, regarding which, however, there is a distinct lack of awareness. "The main problem with taste disorders is that there is no social or scientific awareness of how incapacitated they are. In Spain, the majority of patients with these disorders have not been diagnosed or treated by specialised medical personnel, which can make their situation worse," according to Doctor Jesús Porta-Etessam, head of the Neurology Department at the Hospital Clínico San Carlos in Madrid.
During the investigation phase of the project - BBVA
A pioneering investigation based on sensory stimulation and the use of memory
'El sentido del cacao' starts with a pioneering research process based on key aspects of neuroscience and sensorial management, carried out for the first time ever: «The project came about from a very clear starting hypothesis: would it be possible to recover the flavour of chocolate for people with taste disorders by stimulating the other senses and memories associated with chocolate? We understood straight away that the only way to tackle this challenge was through personalisation: creating personalised experiences," Dr. Porta-Etessam explained during the presentation.
The use of chocolate as the central ingredient in the project can be explained, precisely in this discovery: "To stimulate taste we needed a global and evocative ingredient that could be associated with personal experience. But at the same time we needed to choose an ingredient that can be shaped, with plenty of nuance and that can be personalised and enjoyed with the other senses," added Jordi Roca, pastry chef at El Celler de Can Roca.
"This project has allowed us to develop the first approach to non-invasive sensorial stimulation based on memory to recover a "lost" sense", explained Dr. Porta-Etessam. How did we do this? By creating something tailored and made-to-measure for each participant. After selecting a number of patients with taste disorders, we identified their sensorial and behavioural profiles, their comprehension systems and their consumption of cocoa or even each of their individual memories and stories relating to chocolate," he added.
Based on this qualitative process, Jordi Roca and his team at El Celler created a series of cocoa-based desserts based on the memories of each participant. At the same time, a multi-sensorial and immersive space was designed, adaptable to the personal history of each individual. "We created the ideal experiential ecosystem where, upon trying each dessert, we managed to stimulate neural connections that helped us revive the memory of chocolate in each person," Jordi Roca concluded.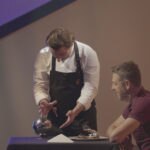 Jordi Roca shows one of his creations to Oriol Blanes - BBVA
For the materialisation of this project BBVA and Jordi Roca collaborated with a multidisciplinary group of Spanish scientists from different areas of expertise comprised of Doctor Jesús Porta-Etessam (Head of Neurology at Hospital Clínico San Carlos), Doctor Josep de Haro (Clinical Head of Ear, Nose and Throat services at Badalona Serveis Assistencials), Doctor Laura López-Mascaraque (CSIC Scientific Researcher at the Instituto Cajal) and Jordina Casademunt (Human Nutrition Specialist and a collaborator with IOB Institute of Oncology).
BBVA and El Celler de Can Roca: a partnership based on values
'El sentido del cacao' is the fruit of a partnership between BBVA and El Celler de Can Roca which began in 2013, inspired by a number of shared values with a significant social component: innovation, responsibility, creativity and the spirit of overcoming challenges lie at the centre of the project where training and gastronomy play a fundamental role.
Óscar Moya, Global Director of Sponsorship and Corporate Content at BBVA, said "'El sentido del cacao' is a new initiative based on in this common vision that is also aligned with BBVA's proposal to create opportunities. The social-vocational nature of our partnership, which we have also attempted to represent in this initiative, allows us to continue to take small steps to keep on transforming our world."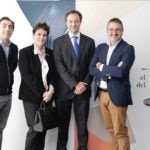 Jordi Roca, Paloma de Prada, Doctor Jesús Porta and Óscar Moya after the presentation of 'El sentido del cacao' - BBVA
The 'El sentido de cacao' desserts: available to combat taste disorders
Based on the desserts created as part of 'El sentido del cacao', El Celler de Can Roca has designed a line of sweets inspired by each participant, available from April at all Rocambolesc ice cream parlours in Spain. All profits made from their sale will go to supporting the institutions participating in the project.