King Juan Carlos and Queen Sofía welcome the Hispanic Society's treasures
His Majesty, Emeritus King Juan Carlos and Her Majesty, Emeritus Queen Sofía opened the exhibition "Treasures of the Hispanic Society Museum and Library" at the Prado Museum today, accompanied by the Minister of Education, Culture and Sports Íñigo Méndez de Vigo, BBVA Global Executive Chairman Francisco González and the Chair of the Museum's Board, José Pedro Pérez-Llorca.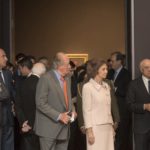 King Juan Carlos and Queen Sofía visited the exhibition, which is open to the public until September 10th, accompanied by the Hispanic Society of America's Chairman of the Board, Philippe de Montebello; the Director of the Prado Museum, Miguel Falomir, and the Director of the BBVA Foundation, Rafael Pardo.
Sponsored by the BBVA Foundation, the exhibition includes more than 200 pieces from the New York museum, which has the most extensive collection of Hispanic art outside of Spain.
The exhibition contains architectural pieces, Roman sculptures, ceramics, glass, furniture, fabrics, Islamic and medieval art, pieces from the Spanish Golden Age, colonial art, Latin American art from the 19th Century and Hispanic paintings from the 19th and 20th Centuries. Together, they comprise a chronological and thematic journey, which includes important paintings such as Goya's Portrait of the Duchess of Alba and Velázquez's Gaspar de Guzmán, Count-Duke of Olivares.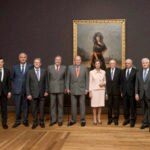 The extraordinary selection of paintings also contains masterpieces such as Portrait of a Little Girl and Cardinal Camillo Astalli by Velázquez, Uneasy Piety by El Greco, The Return of the Prodigal Son by Murillo, and Santa Emerenciana by Zurbarán. These paintings are joined by post-impressionist and modern artists, such as Zuloaga, Sorolla and Santiago Rusiñol.
The exhibition also includes a significant selection of archaeological artifacts such as Celtiberian jewelry, Bell-Beaker vessels and a Visigothic belt buckle. A selection of decorative arts completes the survey, with Renaissance and Baroque metalwork.
Some of the Hispanic Society library's most important holdings will also be on display. Relevant works include A grant (Privilegio) issued by Alfonso VII, King of Castile and León, Biblia sacra iuxta versionem vulgata. Bible in Latin; unique letters such as Holograph instructions for his son Philip, and the Letter to Phillip II of Spain from Elizabeth I, Queen of England and the Holograph letter, signed "Diego de Silva Velazquez" to Damián Gotiens, and several examples of maps, including the Portolan Atlas, by Battista Agnese and the Mapamundi by Juan Vespucci.