Los Angeles-based food blogger wins BBVA Compass Student Chef Experience as part of All-Star Chef Classic
Los Angeles-based food blogger, author and home cook Veronica Hendrix was announced last week as the winner of the BBVA Compass Student Chef Experience Sweepstakes, getting a rare opportunity for a hands-on training with a top culinary mind at the All-Star Chef Classic last weekend at L.A. LIVE.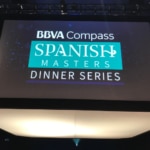 Hendrix won the contest after submitting an original recipe during the social media sweepstakes that launched on February 21 and ran until March 1. The contest offered an in-kitchen experience with Chef Jamie Bissonnette, owner of Barcelona-style tapas restaurant Toro in Boston, while preparing for the classic's BBVA Compass Spanish Masters Dinner.
Thank you BBVA Compass for this honor"
"I am thrilled that my sweet potato and ancho chile tostada was the winning entry," said Hendrix. "The opportunity to shadow Chef Jamie is so awesome. I am beyond excited to learn from a master chef who is not only distinguished and successful, but has an inspiring backstory that inspires me and so many others. Thank you BBVA Compass for this honor. It makes my family and the food journalism community I represent proud."
A self-taught cook, Hendrix is known for her blog, Collard Greens and Caviar, which features whimsical and conversational posts about people in the culinary world and their unique stories. It also features her own stories from the kitchen and her highly-regarded original recipes. She also boasts 20 years of experience in journalism, was a syndicated columnist and feature writer, and has a cookbook trilogy series that showcases some of her most closely held recipes.
Hendrix has also not been a stranger to television, when in 2016 she was featured in Food Network's six-episode primetime competition series, Clash of the Grandmas. Each episode featured four different "grandma super-cooks" competing for $10,000 by reinventing classic dishes with their home-cooking skills.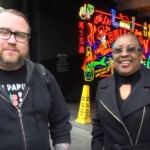 Chef Jamie Bissonnette (left) and Veronica Hendrix.
Hendrix assisted with the preparations for the BBVA Compass Spanish Masters Dinner, where five masters of Spanish cuisine created high-end opportunities for attendees by bringing the country's culinary riches to life for a delicious and lively night. Held on Saturday, March 10 at 7 p.m., the chefs shared the extraordinary cooking traditions of Spain alongside expertly curated Spanish wines.
Sponsored by BBVA Compass, a top 25 U.S. financial institution, the event showcased authentic flavors and modern techniques. The bank's support of the event was part of its overall multi-year agreement with AEG, the world's leading sports and live entertainment company, in an effort to create opportunities and positive experiences for clients and the communities it serves.
"When we support an event like the Spanish Masters Dinner, it's not just to have our name on promotional materials, it's to change lives," said BBVA Compass Director of Strategic Partnerships and Branded Content Sheiludis Moyett. "We're excited to create opportunities for people like Veronica and we will continue similar unique experiences with AEG down the road."