Millenials have become the true engine of Latin America's society. Not only in economic terms, but also in political and social aspects. They have witnessed the comeback of one of the most powerful regions in the world, and have been granted access to far greater technological resources than they would've ever imagined.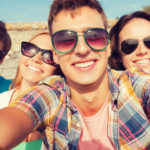 The amount of info that we have about Generation Y is by no means limited. After all, this generation was born with a handset, a computer and endless online services at the tip of their fingers. The market was learned how to show its interest and cater to the so-called millennials, and millennials were quick to respond, asking for more and more. However, not everything has been based on the economic part. Indeed, millennials have also contributed to change the world: it is the social face of technological advances.
How does a Latin American millennial behave from a social standpoint?
From online campaigns to sharing their testimonials and opinions on the social media, the power that youths in the 20-35 age range has been so powerful that it has been able to reduce unawareness abut child poverty and inequality in education, and support small and medium sized enterprises.
Technological innovation has allowed everyone, from small merchants to leading multinationals, to use their mobile devices to pay their suppliers, organize their personal finance, or receive payments from their customers. And still, they want to keep evolving and integrate technology and humanitarian causes.
They are considered optimistic by nature and they want to continue making progress. Or, in the words of Cuban journalist and philologist Yoani Sánchez, "the only thing that Latin American millennials have left is optimism, in most cases they believe that their nations' time to shine is still ahead of them. They do not dare say out loud that the future of the continent belongs entirely to their decisions, but they will shape it to their liking."
Enthusiasts of online shopping and multiculturalism
Today, this generation accounts for 30% of the region's population and they could be considered e-commerce experts. In fact, 70% of Brazilian millennials bought products online, followed by Mexico (67%) and Argentina (59%). However, Mexico's Generation Y is more cosmopolitan, as 61% of these sales were made in foreign webpages.
Regardless of how ubiquitous laptops were when they were growing up and the fact that they have seen how technology has gotten more and more sophisticated, they are embracing mobile technologies with increasingly fervent passion. In fact, one out of every ten Mexican millennials uses these devices to buy online.
They do not dare say out loud that the future of the continent belongs entirely to their decisions, but they will shape it to their liking
They link business success to innovation
54% of Latin American Un 54% de believes that only companies that prioritize innovation can succeed, according to Gary Coleman, Managing Director Global Industries at Deloitte. Brazil, where 65% of youth see innovation as the yardstick for business success, sits at the top of this particular ranking, followed by Peru (64%), Mexico (57%) and Colombia (56%).
Also, four out of ten youths think that companies are this process' true drivers, followed by universities (24%) and the government (18%). According to the survey conducted by Deloitte and analyzed by Gary Coleman, Peru is home to the highest population of innovators (83% of the population).