There are plenty of ways to move money these days – from paying bills to receiving payments to paying friends – and most of them are digital.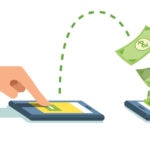 Of course, you can still write checks at the grocery store (though the people in line behind you may not like it), or mail checks to pay bills. And you can still get cash from an ATM to make a purchase if you prefer.
It's hard to argue that digital options are usually more convenient, but is it really a good idea? Short answer: yes.
Paying bills
Instead of writing checks, addressing envelopes and licking stamps to pay bills, most banks offer the convenience of online bill payment. Using this feature, you can see exactly when your payment is expected to post, so you can avoid late payments and late fees. You can also schedule recurring payments to ensure payments get made even if you forget. Online bill payment gives you a digital record you can then search by payment amount, payee name, or transaction date.
Many vendors also offer bill payment on their own websites, though this option typically doesn't offer the same visibility you'd have through a bank's system.
Receiving a routine payment
Whether you receive a regular paycheck, a routine government check or any other routine payment, direct deposit gives you more security and assurance than a paper check. For example, with direct deposit, there are no checks sitting in your mailbox waiting for you to pick up the mail. And there are no checks to lose once they make it into the house along with the other mail. Instead, payments to you are automatically credited to your selected account on the appointed day.
Paying individuals
Current digital capabilities even let you pay people digitally, not just companies. You can easily transmit money to a friend to cover your half of dinner, make a purchase at a local garage sale or farmers' market, or pay back your mom for the money you borrowed. It's faster and easier than getting cash, and there's a record of the transaction for both of you.
We've moved so quickly from a paper-based system of cash and checks, to plastic via credit cards, to today's digital options, it can be challenging to keep up with the best options. Updating your options to move money can mean faster, safer transactions in both directions.
As always, keep an eye on your account to ensure your money is moving where and when you are expecting. It's best to review your online balance at least a few times a week to check for any suspicious or unauthorized activity.
---
Learn more about mobile and online banking here, and sign up here for direct deposit at BBVA Compass.