BBVA Mexico acts as bookrunner for the Mexican Treasury's 'BonoS,' its first peso-denominated sustainable bond, worth MXN 23 billion
BBVA Mexico congratulates SHCP—the Mexican Treasury—on issuing a new sustainable bond known as 'BonoS.' With a fixed rate and a 12-year term, the bond is denominated in local currency. The issue attracted total demand of MXN 39,443 million, an oversubscription of 1.71 times. Both domestic and foreign investors placed orders.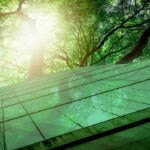 Initiatives such as these help build sustainability curves in a range of different currencies, in line with the approach taken by the Mexican Treasury since its first sustainable bond, issued in 2020. The Treasury's development of sustainability curves provides the private sector and government bodies with benchmarks for issuing their own financial instruments under Environmental, Social and Governance (ESG) criteria.
"This issue fulfills the Treasury's purpose in mobilizing sustainable finance that addresses climate change and social equity."
Commenting on this transaction, Álvaro Vaqueiro Ussel, Head of Corporate and Investment Banking at BBVA Mexico, said: "We thank the Treasury for trusting our bank to act as one of the ESG bookrunners of this issue, which fulfills the Treasury's purpose of mobilizing sustainable finance that addresses the issues of climate change and social equity. This is a shared purpose and one of BBVA Mexico's priorities." The executive then added: "This transaction cements the bank's commitment to support its corporate clients in the pursuit of their ESG strategies."
The issuance of the 'BonoS' bond is conducted within the framework of the Government of Mexico's sovereign bond program, which is in line with the Sustainable Development Goals (SDGs) and with the commitment to comply with the United Nations 2030 Agenda. This framework provides the Government with the flexibility to issue sovereign bonds linked to social, green and sustainable SDGs, in alignment with internationally accepted standards. This year, eligible budget expenditures tied to the SDGs amount to MXN 154 billion.
This action by the Mexican Treasury is in line with the recent publication of the first edition of the Sustainable Taxonomy of Mexico, which allows for effective identification of sustainable activities in order to mobilize and target public and private funds toward initiatives that promote care for the environment and the well-being of society.
BBVA Mexico has acted as bookrunner for more than 57 percent of ESG issues launched on the local market.