BBVA in Switzerland has launched a new online platform in record time, targeting prospective customers who are interested in opening an account. They can now confirm their identity over a video call and digitally sign the contract required to open the account.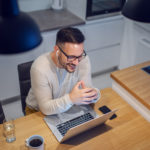 BBVA's Swiss franchise, which is exclusively dedicated to private banking, is living up to its commitment to be close to its customers by leveraging cutting-edge technology. This new online account opening functionality aims to facilitate the new customer onboarding process, making it easy, secure, and quick: it only takes ten minutes to provide the required identification and sign the contract to open an account. Taking out loans and contracting the bank's advisory and wealth management services are among the other services that customers can also access online.
Describing the new platform, Javier Rubio, Client Solutions Director at BBVA Switzerland stated, "Never before has opening an international private bank account been so easy. Now more than ever, the technology that we have at BBVA is providing our customers with agile, efficient solutions."
The end-to-end process occurs over a video call, requiring only a smartphone or a camera-enabled computer, in addition to a passport or other valid form of official identification. To finish the process, the identify document is displayed via the camera and the customer has a recorded conversation with the bank.
With the spread of the COVID-19 pandemic, BBVA has adhered to the health authorities' recommendations calling for people to stay at home and suggesting the use of online channels to do their banking. The BBVA Group unit in Switzerland specializes in international private banking services, with a team of seasoned professionals who have years of experience in wealth management and a robust technology platform specifically designed to accommodate these services.