Onur Genç underscores BBVA's earnings, profitability and future sustainability to investors
This Wednesday, BBVA CEO Onur Genç emphasized the bank's excellent performance in the first half of the year, and the sustainability of these metrics over time. He specifically pointed to improvement in profitability indicators, with an ROTE of 16.9 percent at the end of June 2023. "We have been delivering better than the competition - not only at the Group level, but at the country level," he said during a conference for investors organized by Bank of America in London.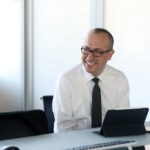 Onur Genç made a special mention of BBVA creating value for shareholders, with a tangible book value per share plus dividends that has risen 50 percent in the past five years, leading its group of European peers. Furthermore, "overall profitability for shareholders (evolution of the share price plus dividends) was clearly better than our European peers." Specifically, since January 2019 to the present, this profitability for shareholders was more than 90 percent for BBVA, compared to 57 percent for European competitors.
The BBVA CEO spoke of the bank's greatest strengths, which make these figures possible, and their sustainability over time: first, its leading franchises operating in markets with high potential for growth; second, its clear competitive advantage in terms of digitization, which the bank is also building in the sustainability field; and finally, its ability to attract customers.
In his opinion, BBVA's structural strengths will continue to propel the bank's strong performance going forward in the context of today's market. In this regard, Onur Genç was optimistic about the bank's biggest markets: Mexico and Spain.
Regarding Europe, and more specifically, the sustainability of net interest income in Spain, the CEO feels that the results will be resilient to a possible change in monetary policy.
Asked about Mexico, he underscored the positive economic outlook, backed strong consumption and a manufacturing sector benefiting from the resilience of the U.S. economy and the impact of nearshoring. Moreover, lending will continue to be supported by economic growth in a context of low banking penetration. In Mexico, in the context of an expanding banking market, "we expect our recurring revenues to continue growing," he added.
He then discussed Turkey's potential over the long term. In fact, BBVA is already starting to see some signs in the right direction from the new administration. He also explained that just as Mexico is benefiting from its commercial ties to the U.S., "Turkey will be the "manufacturing hub for Europe."
Looking to the future, the BBVA CEO reaffirmed the bank's ability to maintain solid results, as well as its attractive shareholder remuneration. In this regard, he stressed the bank's strong capital position, with a CET1 ratio of 12.99 percent in June 2023 - well above the regulatory requirements and the bank's target of 11.5 to 12 percent.
Onur Genç reiterated the bank's commitment to distribute this excess capital to its shareholders. Specifically, in the last two years, between dividends and share buybacks, "we have returned €8.2 billion to our shareholders." In addition, in July, BBVA announced its intention to carry out an extraordinary share buyback worth €1 billion once it receives authorization from the regulator.
He also recalled that thanks to this performance, the bank is on its way to surpassing the long-term objectives it had set for 2024.