BBVA's CEO, Onur Genç, said Monday that he is very satisfied with the performance of the digital bank's business and customer acquisition in Italy, one year after its launch. "We expect to end the year with 160,000 customers, almost triple the initial forecasts," he said during his presentation at the XIII Encuentro Financiero Expansión KPMG.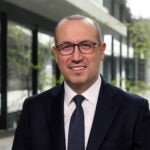 At the close of 2022's third quarter of 2022, BBVA had a total of 108,000 customers in Italy and could end the year with 160,000. Onur Genç explained that their goal in Italy is to be a blend of digital banking and traditional banking. BBVA has the best banking app in Europe and can also offer the full range of financial products that digital banks do not offer. "Our intention is to become the first choice bank for our customers in Italy," he said.
As he explained, BBVA is building a universal digital bank in Italy with a very complete range of products, which will be expanded in the coming months. The bank entered the Italian market with a range of fee-free financial services, such as the Aqua card, with no printed number and dynamic CVV, and competitively priced financing products. Since then, it has expanded its offering in the country and added features and services to the mobile app. It has also reached two strategic agreements in the country, one with the insurance company Zurich and the other with the energy group Iren.
BBVA, leader in profitability in Europe
During his speech, Onur Genç stated that maximizing shareholder returns is a priority for BBVA. As he explained, BBVA's total share return (including dividends) since 2019 has been 48%, compared to 24% for the European banking sector average or -3.5% for Spanish banks. BBVA continues to lead European banks in terms of profitability, with an ROE of 15% and a ROTE of 15.7% at September 30, 2022.
The BBVA CEO referred to different social concerns due to the economic context, in which banks have contributed to support the needs of society in the recent past, such as during the pandemic, with support for elderly customers, or in the provision of financial services in deprived regions of Spain.  If customers need customized solutions, "we are ready to help," he said.
In the current context, and in reference to the impact of interest rate rises on mortgages in Spain, Onur Genç stressed that this risk is manageable, as 80% of the new mortgages that BBVA has granted in the last five years have been at fixed rates and are therefore not affected. Genç highlighted the willingness of the banking sector to join the framework to establish common rules to help mortgaged families in difficulty, and expects that, in the case of BBVA, the Board of Directors will approve its adherence to the Code of Good Practices for urgent measures for mortgage debtors at risk of vulnerability this week.