BBVA Group executive chairman Carlos Torres Vila, CEO Onur Genç, and the Country Manager of BBVA Spain, Cristina de Parias met on Friday with the bank's management team in Catalonia to discuss the challenges and opportunities this territory offers. More than 60 percent of Catalan companies are BBVA clients. The bank will continue putting the focus on connecting with its clients and customers.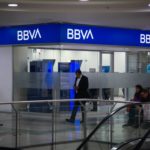 Joining them at the meeting were territorial director of Catalonia, Xavier Llinares and the regional director Joan Piera. The executives took stock of BBVA's growth in Catalonia in recent years following the completion of the Unnim and Catalunya Caixa mergers. The bank has doubled its investment in consumer lending, with 92 percent growth. Its 72 percent growth in investment funds also stands out.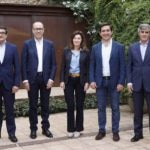 From left to right: Xavier Llinares, Onur Genç, Cristina de Parias, Carlos Torres Vila, Joan Piera.
The executives underscored that this integration is a clear example of BBVA's values, as people from different banks have become part of one team, making the bank a leader in this territory. BBVA currently has over 5,000 employees in Catalonia, 79 percent of which come from the integration of these two Catalan savings banks and 21 percent from BBVA.
In addition, they emphasized BBVA's successful distribution and transformation model in Catalonia. The bank's digital sales in this territory are at 47.5 percent and digital customers represent nearly 60 percent of the total.
In terms of the opportunities and challenges Catalonia offers, they recalled that, according to BBVA Research's forecasts, its GDP is set grow 2.2 percent in 2019 and 2 percent in 2020. These growth rates should translate into 126,000 new jobs, lowering the employment rate to 9.8 percent by the end of 2020.
In this context, BBVA will continue working to offer all of its clients and customers the best service, acting as their strategic financial partner with solutions tailored to their needs for both individuals and businesses. To do so, as always, BBVA will remain in constant dialogue with its customers and clients in order to understand their main needs firsthand and offer the best solutions on the channel they choose at any time. BBVA's digital business keeps growing a notable rates as a reflection of the leadership of its mobile banking app, recently recognized as the world's best by consulting firm Forrester.
In Spain, BBVA has set up its Digital Business Factory, where a 300-strong cross-disciplinary workforce strives to meet tight deadlines to roll out the best digital customer solutions. Functionalities such as One View, which allows businesses to optimize their cash management processes for more efficient decision making, is succeeding at building a sizeable user base: since it launched, over 20,000 Catalan businesses have started using this service. Another BBVA tool that is becoming widely popular is Avalbox, which digitalizes the collateral management processes. Today, over 80 percent of the Catalan customer's collaterals are managed digitally.
Through its Cross Border service, BBVA accompanies businesses as they venture into new markets. With this service, BBVA helps its customers with the additional administrative and reporting workload that comes with international expansion, and offers them the possibility of contacting a manager in their new target markets or open an account from Spain. BBVA currently operates in more than 30 countries, and in has a specialized business banking network 16 of them.