According to UN projections, by 2050 more than 9.7 billion people will inhabit Earth with 68 percent living in urban areas. Of this 9.7 billion, the World Bank. estimates that 4.4 billion will live in Africa and 4.9 billion in Asia.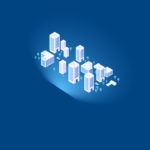 In light of the demographic growth depicted by these numbers and recognizing that the epicenter of human activity will move to urban centers, the urban design and technology needed to reshape the concept of city-living has a long way to go, in addition to a key challenge: to promote sustainability in order to guarantee human survival.
According to a study conducted by the Department of Architecture and Built Environment at the University of Nottingham, more than 80 percent of global-warming potential (GWP) is generated in cities, which is where two-thirds of the world population will live in 30 years. It is essential to redefine urban development and construction processes, and one of the keys to sustainability could be found in technologies based on digital design and 3D printing.
Reducing construction timeframes and minimizing energy consumption, waste, and the carbon footprint across the entire process are some of the key advantages of a construction industry that is truly optimized for 3D printed buildings. The researchers explain how technology suitable for printing 3D buildings would facilitate digital design-based construction, which is then mechanically executed using a printer's mobile robotic arms, which operate on three axes.
More than "just" environmentally sustainable
Magdalena Gabriel and Ernst Pessl of the Institute of Industrial Management at Austria's FH Joanneum University of Applied Sciences in Kapfenberg, published an article that claims that 3D printing can be embraced as an environmentally friendly construction technology because it optimizes resource consumption, generates almost no waste, and by decentralizing the process, reduces production and transportation logistics.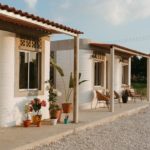 Two 3D printed homes created out of the partnership between New Story, Icon, and Échale in Tabasco, Mexico. - Icon
Another advantage highlighted in Gabriel and Pessl's article is that the layered printing process facilitates the use of different materials such as ceramic, plastic, plaster, and metal. It is now possible to use sustainable — and even intelligent — materials when building structures. A project in Tabasco, Mexico developed in partnership with three organizations provides the proof: In 2017 the 3D printing technology company ICON, the non-profit New Story and NGO Échale, built two complete homes using 3D printing. They accomplished this using Lavacrete, a material patented by ICON based on a mixture of cement combined with advanced additives, which allows for very fast printing as well as creating structures that are both solid and cost-effective. With a much higher resistance than traditional building materials, it can be manufactured anywhere in the world and can withstand extreme climatic conditions, thus safeguarding against the impacts of natural disasters.
In addition to reducing the environmental impact, printing 3D homes can have significant social consequences because it enables rapid responses to natural disasters; provides affordable, decent housing in communities that lack resources; and is tool that can be used to quickly help the homeless.
Contour Crafting
Good design is fundamental to guaranteeing energy efficiency, reducing production costs, and improving a building's insulation. Contour Crafting is a 3D printing technique that promises to revolutionize the construction industry because it will enable the incorporation of electricity, plumbing, and air conditioning ducts into the printing process. This technique was developed by Dr. Behrokh Khoshnevis of the University of Southern California's Information Sciences Institute and CEO of his own company, Contour Crafting.
As emphasized on the company website, the regulation of labor costs and building permits could be the primary impediment to implementing this technology in the U.S. market. At present, Contour Crafting is working in collaboration with the Innovative Advanced Concepts (NIAC) program at NASA, in order to build a space settlement, another important application of this technology. In fact, NASA has issued a challenge to design a habitat for space exploration, including journeys to the moon and Mars.
The government building in Dubai built entirely in 3D and inaugurated at the end of 2019 - https://www.apis-cor.com/
Returning to Earth, the 3D printing technology applications in the construction industry also have a promising time horizon. For example, in Dubai, the government has launched a plan to transform this UAE emirate into the center of 3D printing by 2030. As the government claims on the project website, this technology "will restructure economies and labor markets, and will be a defining productivity factor."
To push this initiative, government regulators have stipulated that from 2025, all new building construction in Dubai most include 25 percent 3D printed output. For the time being, Dubai can claim the largest 3D printed building: a government building with walls stretching up 9.5 meters (31 feet) and with a total area of 640 m2 (6889 square feet). It was built in two days with a printer and only 15 workers. The building, already open and in use — having gone through a year-long trial period — has earned a place in the Guinness Book of World Records.