Ever been in the middle of a conversation with someone and realized they were ignoring you so they could pay attention to their phone?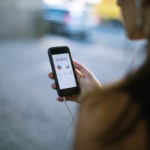 Executive Assistant Veronica Silva has, and she's not a fan. It's part of what inspired her to host a mindfulness session for her teammates in Laredo as part of the recent BBVA Compass Wellness Week, where Wellness Champions across the bank's footprint led activities to get their officemates thinking about their overall health.
"I think people enjoyed relaxing and getting away from their workspace," said Silva, who utilized a Whil mindfulness session. "Mindfulness is an important aspect of being one team and putting our customers first, because it helps us pay attention to the person standing right in front of us."
Silva: Mindfulness is an important aspect of being one team and putting our customers first...
Thanks to Silva's efforts, her team enjoyed a special time together when they could focus on personal connection.
The week of activities was coordinated by one of the bank's Talent & Culture teams, which provided daily themes, ideas, and other support for the Wellness Champions as they were planning their activities. Director of Content and Learning Solutions Stephanie Verner, who plays a dual role as a member of the Solutions Development team and a Wellness Champion in Dallas, said the team used employee feedback to determine the types of activities to promote and how to give guidance to the Wellness Champions.
"We heard a lot of people looking for more ways to connect outside of work around something they're enthusiastic about—health and fitness," Verner said. "A lot of people also just didn't really understand everything that was available to them. That's the beauty of the Wellness Champions; it's a group of people who are passionate about the topic and more than willing to help."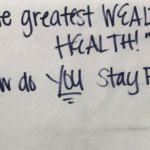 BBVA Compass Wellness Champions promoted engagement about personal health and wellness with posters.
The group also hosted virtual activities through their Google+ Community, including sharing favorite healthy recipes. Wellness Week and the Wellness Champions are part of the bank's Wellthy for Life Wellness Program, which provides opportunities and incentives for employees to create and maintain a healthy lifestyle.
Senior Corporate Wellness and Benefits Specialist Amanda Creel said that the purpose of the Wellness Week was to help the Champions get started hosting activities in their own locations, with the understanding that they are empowered and encouraged to continue leading wellness activities with the support of the BBVA Compass Benefits team.
Creel: Physical, emotional, and financial wellness are keys to happier employees, so we want to do everything we can to help.
"We're excited to see where this goes, and we are hoping to add even more Wellness Champions who are excited about helping their teammates achieve their health goals," said Creel, who also heads up the Wellness Champions and is a Whil Certified Mindful Leader. "Physical, emotional, and financial wellness are keys to happier employees, so we want to do everything we can to help."
---