Statement on BBVA 2Q20 earnings from BBVA CEO Onur Genç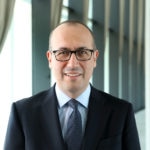 Hello everyone. I am here today to talk about our second quarter performance. Needless to say, we are facing a global crisis with a far-reaching impact, and our top priority will continue to be the health of our employees, our customers and society as a whole.
As for Q2 results, we saw a profit of €636 million, half of what we reported a year ago, but more than double if we compare it with the results announced in the first quarter of the year, excluding the goodwill adjustment.
It is worth mentioning that in all the countries within our footprint COVID-19 has caused a negative impact to economic activity, and, although we are seeing some moderation in the impact, it still continues.
To reflect the impact on our accounts, we have made some front-loaded provisions, mostly in the first quarter and to a lesser extent in the second quarter.
Although our net attributable profit reflects these extraordinary provisions, our core business indicators show a strong positive trend. Our business is adapting to the current climate better than anticipated; the second quarter was particularly positive.
I would like to highlight the key developments underlying this positive trend:
First, I would like to emphasize, despite the challenging landscape, we continue to benefit from solid operating income, which increased +17.6 percent, compared to the same quarter last year. [OPERATING INCOME +17.6% vs. 2Q2020 CONSTANT EURO]
Second, solid cost containment metrics, with an outstanding efficiency ratio of 45.8 percent, a significantly better figure than our European peer group.  [EFFICIENCY RATIO 49.7% 12M2019      45.8% 6M2020]
Third, a significant improvement in our cost of risk which stands at 151 bps compared to 257 bps last quarter.  [COST OF RISK 257 bps 1Q20   151 bps 2Q20]
And finally, a robust generation of capital. One of our best quarters, leading to a 38 bps increase in our CET1 capital ratio. [CET1 FULLY-LOADED 10.84% Mar 2020 11.22% Jun 2020 +38bps]
The above positive metrics together with our unique digital capabilities, puts us in a strong position in order to overcome the crisis.
In conclusion, I am confident that all of us — as BBVA, individuals, and society as a whole — we will emerge stronger from this crisis,  Be positive, stand strong and stay safe.