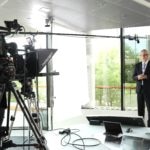 "For another quarter we are reporting solid results with earnings of €1.225 million, a 6.1 percent year on year increase (using a comparable basis).
We continue to see positive dynamics in our business, with operating income growing at 10 percent, driven by recurring revenues and continuous improvement in efficiency. Our efficiency ratio stands at 48.7 percent, well below the average of our European peer group.
Despite a complex macroeconomic environment, our diversified model also allowed us to maintain sound risk indicators and a solid capital position, with a capital ratio that grew to 11.56 percent. In addition, we have an outstanding record of value creation for the shareholder, with a 14.2 percent increase in tangible book value per share plus dividends compared to the same period a year earlier.
We continue to move forward with our transformation. The consulting firm, Forrester Research, named BBVA's banking app in Spain the world's best for the third year running. BBVA Garanti, the bank's Turkish unit, took second place in the same ranking.
In summary, an excellent quarter."