Bancamía to issue €45 million in social bonds to support gender equality in Colombia
"Society owes a debt to women," said Bancamía's executive president, Miguel Ángel Charria. For this division of the BBVA Microfinance Foundation (FMBBVA), providing service to women has been a priority since the branch was created in 2008 as the first microfinance bank in Colombia. Today, Bancamía supports 1.4 million micro-entrepreneurs, most of them women. The bank seeks to help its customers to overcome the crisis caused by the pandemic through the issuance of social bonds with a focus on gender equality, for an amount of 200 billion pesos, about 45 million euros.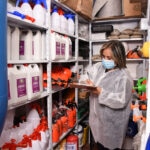 "From the perspective of microfinance, we found that women start with fewer resources but are more perseverant on the road out of poverty," said Miguel Angel Charria, who also comments on the possibility offered by Bancamía to start a credit history with an entity "designed to support them," whose approval rate for microloans to women has always been above 90%. 
With this bond issue, which is expected to become effective in the coming weeks, FMBBVA hopes to be able to grant some 50,000 loans to vulnerable Colombian women entrepreneurs. The securities will be partly guaranteed by BBVA Colombia, with an AA+ rating according to BRC Investor Services, and certified as a social bond by the international agency VIGEO.
Social, with a gender focus. This describes the first issue of commercial paper by a microfinance institution in Chile: Fondo Esperanza, of the BBVA Microfinance Foundation. This funding will strengthen support for more than 100,000 vulnerable entrepreneurs who are more exposed to the impact of the pandemic. 80% are women and half are heads of households.
"We are taking an important step for the benefit of the women who drive the country's economy and will take center stage in the economic recovery, which we are already seeing," said the executive chairman of Bancamía, who recalled the role played by the entity in their progress and in the jobs these businesses generate. According to Charria, between June 2020 and March this year, 880 billion pesos (more than €190 million) was disbursed to more than 200,000 people. The growth forecast for 2021 is between 8% and 10%.
This is what a Colombian woman entrepreneur is like
For years, FMBBVA has measured the progress of its customers and beneficiaries to ensure that it fulfills its purpose: to promote sustainable and inclusive development. It does so in the five countries where it operates through six microfinance institutions, which together serve more than 2.6 million entrepreneurs.
Getting to know their profile is the first step in designing a relationship model that truly prioritizes their welfare. In Colombia, looking at data as of the end of 2020, women entrepreneurs are vulnerable from the point of view of income and, more importantly, level of education, since 44% have completed primary education at most. In addition, 36% live in rural areas. This is often another barrier to their progress, which they manage to overcome. An achievement that highlights the role of microfinance in driving inclusive growth and facilitating women's contribution to sustainable development.