For the first time a private entity measures its clients' multidimensional poverty
The BBVA Microfinance Foundation (BBVAMF) is the first private institution in the world to implement Oxford University's Multidimensional Poverty Index to analyze the condition of the 2.8 million people it supports in five Latin American countries. This indicator gives a better understanding of the gaps in education, health and housing faced by these entrepreneurs' households and enables designing value propositions to improve their living standards.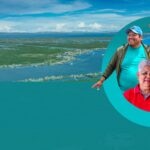 This approach complements the one annually adopted by the BBVAMF with its Social Impact Measurement model. It provides economic and social information on entrepreneurs which identifies their monetary poverty.
The study carried out by the BBVAMF (Multidimensional Internal Poverty Index - MIPI) is based on nine indicators that target three dimensions of poverty: education, health and housing. It consists of measuring how many households have these deprivations and the intensity with which they experience them.
The Foundation presents the results of this report in four of the five countries where it is present: Colombia, Peru, the Dominican Republic and Panama, and soon, also in Chile.
What is the Multidimensional Poverty Index?
The Multidimensional Poverty Index is an internationally accepted standard adopted by the United Nations; more than 100 countries apply this methodology in their official statistics. It is a way of measuring poverty that complements the traditional one, based on income level. In multidimensional poverty, the elements studied reflect the more structural aspects of poverty.
Sabine Alkire, director of the Human Development and Poverty Initiative at Oxford University, who developed this methodology, stressed that "we wanted to be useful to poor people and for the measurements to be used to develop public policies, by NGOs as well as the private sector".
Along these lines, BBVAMF CEO, Javier M. Flores, pointed out that "we are the first private sector organization to integrate this index not only in measurement, but also in management, to have a decisive impact on the well-being of our entrepreneurs' and their families' quality of living".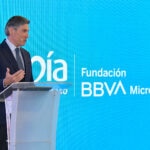 Javier M. Flores, CEO, BBVA Microfinance Foundation
24% of the entrepreneurs' households supported by BBVAMF experience deprivation in three or more indicators simultaneously, which defines them as multidimensionally poor. The most common deprivations are: years of schooling (affecting 42% of households), sanitation (26%) and access to water (20%); followed by housing materials (19%) and Internet access (19%).
"These people and their progress are our reason for being. They show us that despite the shortcomings they face, they are true actors of sustainable development for themselves, their families and communities," concluded Flores.
Results of the Multidimensional Poverty Measurement in Colombia
The BBVAMF Report states that "the incidence of multidimensional poverty among entrepreneurs who work with Bancamía (a BBVAMF institution in Colombia) is 17.5%". BBVAMF director for Impact Measurement and Strategic Development, Stephanie García Van Gool, explained that "households with greater multidimensional poverty have lower incomes, are households with more children, and there is a clear difference between urban and rural areas, with 9.6% of households in poverty in urban areas compared to 28.2% in rural areas".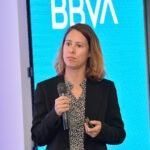 The BBVAMF director for Impact Measurement and Strategic Development during her speech at the report presentation event in Colombia.
According to the MIPI, the most common deprivations among Bancamía clients are the number of years of schooling (affecting 50%), lack of Internet access (25%), poor sanitation facilities (20%) and access to water (14%). Of the more than 9,000 surveys conducted for the report, 4,700 were of Colombian families.
With more than 1 million clients, Bancamía remains firm in its aim to improve the quality of life of the most vulnerable.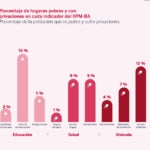 Colombia's MIPI (BBVAMF)
The BBVA Colombia country manager, Mario Pardo, said during his speech at the presentation of the report that "it is difficult to find a clearer mission to end poverty than that of the BBVAMF". And he concluded by reiterating BBVA's commitment: "Last year the BBVA Group made a commitment to invest 100 million euros a year in social investment, which means that we will invest 500 million euros between 2021 and 2025".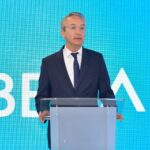 BBVA Colombia country manager during his speech at the presentation of the MIPI
The country's poverty has worsened since 2020, when 21 million people (42.5% of the population) were in monetary poverty. The latest survey of the National Administrative Department of Statistics (DANE) points to an increase in 2021. When the poverty approach is multidimensional, by measuring the living conditions of families and their unmet needs, it is observed that it also has an upward trend.
Multidimensional poverty in Peru
According to data from Financiera Confianza's Internal Multidimensional Poverty Index (BBVAMF institution in Peru), 32.7% of its clients' households have been identified as multidimensional poor, and they point out that, as expected, entrepreneurs living in rural areas are more likely to be in a situation of multidimensional poverty than those living in urban areas.
In this regard, García Van Gool stressed that "poverty is unstable. Entrepreneurs are able to reinvent themselves and adapt to shocks as drastic as the pandemic, which has led to a 30% increase in poverty. We have linked the Oxford methodology to our value proposition. We have surveyed more than 2,000 clients in their homes and asked every member of the household. A household is poor when we detect deprivation in at least three indicators".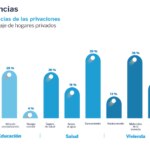 Peruvian MIPI (BBVAMF)
Financiera Confianza is present throughout Peru, offering a complete range of financial products and support to improve the income and quality of living of some 700,000 entrepreneurs.
Peru is one of the countries in the region most affected by the COVID-19 pandemic. However, according to the National Institute of Statistics and Informatics (INEI), after a GDP contraction of 11% in 2020, the Peruvian economy experienced a rebound effect in 2021 that led to a growth of 12.8%, giving way to greater normalcy and economic stability.
See full report HERE