Garanti BBVA strives for sustainable development and the participation of women in economic activity. Now, the bank is celebrating the 15th anniversary of its comprehensive and continuous approach to supporting women entrepreneurs.
Garanti BBVA was the first bank to encourage women to become entrepreneurs. Now, fifteen years later, its support falls into the categories of financing, promotion, training and penetration of new markets.
Over the past few years, Garanti BBVA has subsidized female entrepreneurship with TRY 10 billion. It has also organized the Female Entrepreneurship Competition in collaboration with KAGIDER and the Turkish weekly Ekonomist. These sessions inspire women and provide a platform to communicate their success stories. As of the original publication date of this article, more than 40,000 applicants had applied. In addition to the above, and also in collaboration with KAGIDER, the Female Entrepreneurs' Meetings help them to enter new markets and attract new customers.
In addition, Boğaziçi University's Continuous Learning Center (BÜYEM) has provided free training to more than 3,000 female entrepreneurs in 27 cities through a project to impart executive skills to female entrepreneurs that began in 2012.
Sibel Kaya, executive vice president of Garanti BBVA in charge of SME banking, celebrated the bank's progress over the past fifteen years in helping women entrepreneurs. "We are aware of the importance of entrepreneurship and production. That is why we consider that helping entrepreneurship in our country is one of our main responsibilities, especially female entrepreneurship."
Women - the key to economic growth
The director said that for the past 15 years, they have been striving to increase the percentage of women entrepreneurs in Turkey. "Nothing makes us happier than knowing that, thanks to our continued support during this period, we have contributed to the national figure of female entrepreneurs increasing from 4% to 13%, according to TURKSTAT data."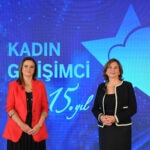 From left to right, Sibel Kaya, executive vice president of Garanti BBVA and Emine Erdem, Chairman of the Board of KAGIDER
"At Garanti BBVA, we look after the financial health of female entrepreneurs, offering them advice, counseling, and simplifying their economic activities and their lives. We also complement their work processes with the right recommendations, guidance and support at the right time," she said.
Emine Erdem, Chairman of the Board of KAGIDER, noted that "only one-third of the world's entrepreneurs are female. However, it has been proven that female entrepreneurship has a multiplier effect that creates jobs, fuels innovation and reduces inequalities." The Board Chairman added that, according to research conducted by the consulting firm McKinsey, female entrepreneurs have the potential to add USD 13 trillion to the global economy by 2030; and the same research indicates that the global economy will lose USD 1 trillion if no action is taken to help women.
"The key to sustainable development and economic growth lies in the hands of women, but it will only do any good if they are empowered and participate actively and equally in the economy."
The bank will therefore continue to work to remove the obstacles that hold women back in their careers as entrepreneurs, ensuring their empowerment and offering them advice on how to make their businesses sustainable.