Garanti BBVA partner Erguvan helps offset TAV Airports' carbon footprint
Turkey's first and only carbon trading platform, Erguvan (erguvan.co), has offset the carbon emissions of airport operator TAV in Ankara, Izmir and Enfidha. TAV supported two Verra-licensed projects, one of the leading carbon standards in the voluntary carbon market, and offset 21,603 tons of carbon emissions through the Erguvan platform.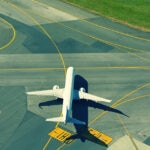 Erguvan has grown significantly through its partnership with Garanti BBVA, and will continue to contribute to the maturation of the voluntary carbon markets by adhering to the principles of transparency, security and low transaction costs.
Garanti BBVA Deputy General Manager Mahmut Akten stressed the bank's support for all work to further voluntary carbon markets, which play a complementary and critical role in achieving global emission reduction targets. Voluntary carbon markets surpassed $2 billion in 2021 and stand out as one of the strongest supply markets with an annual carbon credit export potential approaching 40 million in Turkey. The strategic partnership Garanti BBVA has established with Erguvan - the country's first and only digital carbon credit trading platform - helps the bank's customers manage and reduce their climate risks, Mahmut Akten noted.
"We are pleased to support TAV, one of the leading companies in the airport operations sector worldwide, in offsetting carbon emissions at three airports it operates in Turkey and Tunisia," the Deputy General Manager said. This innovative process is expected to increase demand in the voluntary carbon market and expand the market. "Our cooperation with Erguvan will enable us to support our customers' carbon offsetting activities while promoting voluntary carbon trading," he added.
The Chief Operating Officer of TAV Airports, Kürşad Koçak, explained that the company operates 15 airports in eight countries. They view the fight against climate change as transformative for all areas of the economy, and therefore aim to be carbon neutral in their operations by 2030 and reach net zero emissions by 2050 at the latest. "We are pleased to work with Garanti BBVA's business partner Erguvan to offset the emissions of our three airports. We will continue to work collaboratively with all our stakeholders to protect the planet and decarbonize the aviation industry," Kürşad Koçak said.