The Garanti BBVA Partners program announces its 2020 participants
BBVA's Turkish unit has launched the latest round of its Garanti BBVA Partners Acceleration Program, an initiative that seeks to nurture the entrepreneurial spirit and support local small business people.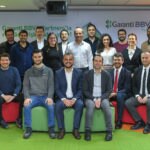 Five businesses have been selected to participate in the 2020 Garanti BBVA Partners Acceleration Program, which will provide participating entrepreneurs with the support they need to promote sustainable growth and develop their strategic plans. The candidates that have been selected are Ottan, eTaşın, Tvlyzer, ecording, and Techbros.
Any entrepreneurial business with a viable product or service, in operation for less than three years, and a scalable business model is eligible to apply to the program.
Since its inception in 2015, Garanti BBVA Partners has supported more than 50 entrepreneurs by providing them specialist support through mentors, access to office space, and training on the latest trends in business and sustainability.
The candidates selected for the 2020 edition were evaluated by the following members of the jury: Gökhan Alpman, Managing Partner of Eurasia Invest; Volkan Demir, Dean of Economics and Administration at Galatasaray University; Batu Sat, Managing Partner of Mall IQ; Mustafa Sen, Senior Vice President of Payment Systems for Garanti BBVA Technology; Özge Çaglar, Head of Digital at Garanti BBVA Technology; Metin Özkan, Head of Corporate Funding at Garanti Yatirim; Mustafa Saglik, Head of Medium and Large Enterprise Banking at Garanti BBVA; and Hakan Oger, Head of Small Business Banking at Garanti BBVA.