The internationalization of BBVA: from a local bank to a multinational operating in more than 30 countries
BBVA's international expansion began in the mid 1990s. Today, with operations in more than 30 countries, the bank's geographic diversification represents one of the great accomplishments of Francisco González's twenty-year tenure as executive chairman, and is a key factor in the Group's repeated positive results.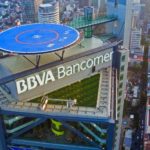 BBVA burst onto the international scene in 1995 with its stake in Banco Continental. Today, BBVA operates in more than 30 countries: it is an industry leader in the Spanish market, the largest financial institution in Mexico (BBVA Bancomer), and it runs leading franchises in South America and throughout the sunbelt in the U.S. (BBVA Compass). It is  also the largest shareholder of Garanti Bank in Turkey.
BBVA currently has more than 126,000 employees, compared to just over 16,000 for Argentaria when Francisco González became president in 1996. Only 24% of BBVA employees work in Spain.
Proof of the geographical diversification of the last five years is the contribution of franchises outside of Spain to the Group as a whole. In 2000, only one third of the Group's total assets were outside Spain, compared to around a 50 percent today.
Geographic diversification has helped BBVA withstand the different crises that have occurred in the areas it operates during the last twenty years. Diversification and a decentralized management model to run its subsidiaries, a model know as "multiple point of entry" (MPE). In this model, the parent company sets policy related to liquidity and risks, but the subsidiaries are self-sufficient and responsible for managing their liquidity, without there being a transfer of funds or cross-financing either from the parent company or between the subsidiaries.