Negotiations between Juan Manuel Santos' government and the Fuerzas Armadas Revolucionarias de Colombia (FARC) began in 2012. Talks with the Ejército de Liberación Nacional (ELN) will start in May. It has been a long, complicated peace process. While a definitive peace agreement is still pending, the steps taken so far can be considered milestones in Colombia's history.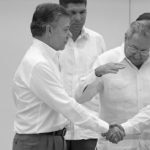 February 23rd: Exploratory stage between Juan Manuel Santos' government and FARC begins.
August 26th: The General Agreement laying the bases for the negotiations is signed.
October 18th: Peace Talks Table assembled in Oslo, Norway. Names of negotiators for each of sides announced.
November 19th: Negotiation process begins in Havana, Cuba, Focusing on integral rural development.
November 20th: First unilateral ceasefire announced by FARC through January 20th, 2013
November 26th: Government and FARC agree to open up a space to allow civil society to take part in peace process
April 7th: FARC add four members to their team of negotiators
April 9th:  Almost one million Colombians take the streets in several cities to support peace process
May 26th: The parties announce partial agreement on integral agrarian development
August 5th: proposed the immediate establishment of a Commission on the Truth, to determine responsibilities over crimes against humanity
August 20th: FARC takes responsibility for victims and open door for reparation
November 4th: The parties announce partial agreement on political participation
December 15th: FARC announce unilateral truce through January 15th, 2014
May 16th: The parties announce partial agreement on illicit drugs
May 20th: Farc guerrilla and ELN announce 8-day joint unilateral ceasefire to favor May 25th presidential elections
June 11th: Start of exploratory stage with ELN guerrilla announced
June 15th: Juan Manuel Santos reelected Colombia president for 2014-2018 term with 50.9% of votes
September 24th: Government and FARC publish draft agreements over points 1, 2 and 4 and of the general agreement
October 9th: National Peace Council installed to promote post-conflict construction in the regions
November 17th: President Santos suspends talks after learning about kidnapping of General of the Republic by FARC. General released on November 30th. Government agrees to resume talks
December 20th: Undefined unilateral ceasefire announced by FARC. The ceasefire was suspended on May 22nd, 2015
February 20th: U.S: announces dispatch of representative to Cuba to take part in peace process.
May 2nd: The Government announces the dispatch of six generals to talk with the FARC about how to scale down the conflict.
Mach 7th: The parties announce an agreement to de-mine the national territory.
Mach 11th: President Santos orders the Armed Forces to halt bombing of FARC rebels
April 15th: The President orders the resumption of bombing raids after the FARC kill 11 soldiers
July 20th: New unilateral ceasefire announced by the FARC
September 20th: Pope Francis said Sunday that Colombia cannot afford another failure in peace talks. On the 28th he recognized that he mediated personally in favor of the process
September 23rd: President Juan Manuel Santos, and FARC military commander Timoleón Jiménez, aka Timochenko, announce from Cuba and before Raúl Castro, the signing of the agreement on transitional justice and agree to sign peace on March 23rd, 2016
January 26th: The UN lends support to the peace process and agrees to verify and oversee the end of war
March 23rd: Heads of both delegations acknowledge the failure to sign the peace agreement on said deadline
March 30th: Juan Manuel Santos' government and  ELN guerrilla announce from Venezuela the start of talks for the peace process.
June 22nd. The Government of Colombia and the FARC reach an agreement for a cease- fire bilateral and definitive.