Spanish universities have opened their doors once again at the start of the new academic year. In total, they will be offering 2,781 undergraduate degrees and 3,772 master's degrees, according to data from the Ministry of Education reported by the financial newspaper Cinco Días.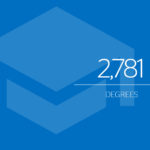 The list of degrees varies according to demand and market needs. This enables universities to seek out new educational projects designed to meet the needs of businesses. This year sees the addition of 8 state-of-the-art undergraduate and 4 official master's degrees in their respective areas.
Among the new courses on offer are: degree in Management of Intelligent and Sustainable Cities, at the Universidad Autónoma de Barcelona; a degree in Bioengineering, at the Universidad Internacional de Cataluña; a degree in Management of Digital Information and Content, at University Carlos III de Madrid; and the master's degree in Big Data, Technology and Advanced Data Analytics at the Universidad Pontificia de Comillas.