Garanti BBVA celebrates its 25th anniversary of its support for the Istanbul Jazz Festival
Garanti BBVA is celebrating the 25th anniversary of its support for the Istanbul Jazz Festival, one of Turkey's longest-running festivals, without interruption.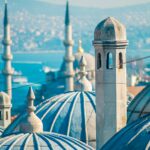 Garanti BBVA, which is at the heart of social development and cares about increasing active participation in cultural and artistic life and increasing collective artistic productions, considers supporting projects that will add value to society and social life as an integral part of corporate culture, as well as banking activities.
The "Istanbul Jazz Festival", organized by the Istanbul Foundation for Culture and Arts (IKSV) for the 29th time this year under the sponsorship of Garanti BBVA, will meet music lovers on June 25-July 7. The festival, which has a special place in the hearts of jazz lovers and is highly anticipated every year, will host more than 200 local and foreign artists this year.
The festival, which plays an important role in increasing Turkey's cultural interaction, also contributes to Istanbul's status as a city of culture. Some of the names that will be giving concerts at the festival include five Grammy winners Dianne Reeves, Melody Gardot, John McLaughlin, Enrico, and other artists such as Pieranunzi, Teoman, Kalben, Yom, Boom Pam and Kutiman.