Watches and wine come to BBVA Compass Global Wealth clients in three Texas cities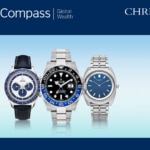 The bank regularly holds the gatherings in its markets, with most attendees being bank Global Wealth clients. The bank plans to hold three events from September 25 to the 27 in McAllen, Texas, San Antonio and Austin.
"We've teamed up with Christie's Auction House over the years to hold memorable events that our clients still talk about today," said BBVA Compass Texas Regional Executive Jeff Dudderar. "Our Global Wealth clients in Texas are going to see rare collections that truly make for a unique client experience."
The events will be held at the McAllen Country Club, the Four Seasons in Austin, and Club Giraud in San Antonio. Christie's experts will be on hand to showcase valuable wines and watches and will be available for questions about the items.
Originally teaming up in 2013, the bank and the auction house have joined to bring rare works of art, jewelry, wine, and other showings to BBVA Compass clients, showcasing the bank's commitment to a unique client experience.  Over 20 cities have been reached by these events, including Houston, Birmingham, Denver, Miami and New York.
The partnership has been useful to the bank's clients who need financial advice on managing "treasure assets," such as fine art, antiques, wine, classic cars and jewelry. A report by Deloitte, conducted around the time the partnership was announced, found that wealthy individuals hold an average of 9.6 percent of their total net worth in such assets, which require precise documentation for insurance purposes and estate planning.
For more information on Global Wealth services from BBVA Compass, click here.
BBVA Compass is a trade name for Compass Bank, Member FDIC.