What is the accounting adjustment of BBVA regarding its stake in Telefónica?
In accordance with accounting regulation, BBVA will make an adjustment in its accounts regarding its stake in communications provider Telefónica. This entry does not involve any cash outflow, nor does it have any impact on the bank's capital ratio or the payment of dividends. The adjustment will be reflected in the income statement for Q4-17.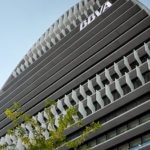 BBVA maintains a stake in the share capital of Telefónica greater than 5%, which is registered in the accounting category of available-for-sale financial assets. As of June 30, 2017, the unrealized losses from the stake in Telefónica (€880 million) were recorded as a reduction of the Group's total equity. As a result of the variation of Telefónica's stock price, as of December 31, 2017 these losses amounted to €1.123 billion.
As of the closing of 2017, in accordance with IAS 39 accounting standard, it is considered that these unrealized losses must be recorded in the income statement. This negative impact of €1.123 billion will be reflected in BBVA's consolidated net attributable income, in the 2017 consolidated financial statements to be submitted to the Board of Directors.
The indicated adjustment will not affect the equity nor the CET1 of the BBVA Group. Nor will it generate any cash outflow or a change in the dividend payment amount that is expected to be proposed to the Board of Directors.