Merger and Acquisition activity (M&A) has taken on significant relevance in the current economic and financial climate in Spain. In other markets, like in the United States, where there are numerous financial entities that give their customers guidance on such matters, the role of the financial advisor already forms part of the business ecosystem.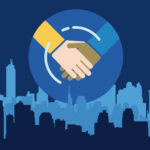 But what does M&A activity consist of? Traditionally it was associated with the idea of brokering between companies and investors in exchange for a commission. Even so, as part of its role, a bank will counsel its customer. The professionals who work on these teams are financial advisors whose work consists of solving a company's business issues and delivering ideas to create value for shareholders.
Doing so requires an in-depth analysis of a company's needs and a blueprint of the best options that will help its management team define a short, medium, and long-term strategy.
Problems and Solutions
It is essential to understand the company's needs and from there, design and implement a solution. We list the following reasons that might compel a company to turn to M&A services, depending on the type of customer.
Growth. Companies with significant market share that look to diversify their activities often confront a dilemma: to start or buy a company. Some of the considerations that must be taken into account include execution risks, existing financial instruments, and synergies.
Looking for resources. There are several financial instruments available when a company is looking for capital to finance its projects: from pure capital and bank loans to hybrid instruments like Mezzanine financing or subordinated debt.
Shareholder reorganization. Shareholders don't always want to be invested in a company for 20 years or more, sticking to an expansive, long-term strategy, which is why many companies may face a shareholder turnover. To undertake this process, often businesses will need to find "replacement shareholders" or capital to finance the buyout of one shareholder for another.
These situations are normally settled with an acquisition or merger, hence the name. Still, the key lies in understanding the needs, identifying solutions, and executing them.
The key lies in understanding the needs, identifying solutions, and executing them
It is essential to understand the company's needs
What is an M&A service
In an initial meeting, the company explains to the advisor what the business is and what its requirements are. The advisor must be able to understand the questions raised by the customer and propose ideas in line with his profile.
The advisor will also prepare an assessment detailing how the situation should be addressed. What companies to buy? Who would be interested in the business and how much is it worth? How to find enough capital to finance the project or buyout your partner? etc.
It takes a lot of time for an assessment to turn into a deal. That's why a fluid, strategic dialogue and a proactive approach is important so that any change to the business during the process can be incorporated into the assessment to help the clients make decisions.
M&A at BBVA
BBVA is the leading M&A advisor in Spain and Portugal in terms of number of transactions. The bank provides advice to all kinds of customers, from large enterprises to family businesses. Its mission is to service its customers and become a leader in key regions: Iberia, Mexico, South America, and Turkey.
The bank's teams are composed of professionals with unparalleled experience in M&A activity and are organized by sectors in order to contribute greater added value to its customers. BBVA enjoys an international network that reaches the most important financial centers in Europe, Asia, and the Americas and are thus able to attract necessary capital to its territories.