Five reasons for managing your company using the BBVA net cash app
The lives of businesspeople are very tough, we know. That's why BBVA makes a big effort to make their life easier: it's the revolution of small things. Imagine yourself advancing your invoices after going for a stroll in Central Park or making transfers while you wait to go up to the Eiffel Tower. With one hand you can enjoy some delicious fish and chips while with the other you browse to find out about the status of your orders.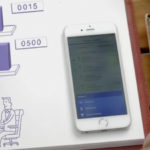 Now, having to manage your business will not be an excuse for not going on vacation. From Paris, London or New York, thanks to BBVA's net cash app for companies, you can do everything on your smartphone, like signing an outstanding order or checking the balance of your accounts from anywhere in the world, and very easily.
This app offers you the freedom to be connected to your company how and when you want, guaranteeing the security of all the transactions.
This app offers you the freedom to be connected to your company how and when you want, guaranteeing the security of all the transactions. To enjoy this convenience, BBVA net cash enables you to:
Access the most usual features used in online banking: check the overall position of your accounts and the available balance online for each one of them, directly access the latest transactions and the associated debit/credit document, order your transfers, manage your cards and the advance of your invoices by reverse factoring, sign outstanding orders…
Receive customized notifications related to relevant events for the financial management of your business. Each user can configure those they are interested in and, without having to access the app, avoid overdrafts in their accounts, anticipate irregular situations in their positions with BBVA, find out quickly about the status of their foreign trade transactions and directly execute pending and/or urgent tasks.
Generate the codes needed for signing transactions. The security device is integrated into the app itself, thus avoiding the need for a physical one or having to copy numbers from another application. Moreover, from the app you can also sign orders generated in the web version directly from the <Order pending signature>.
Use all the browsing elements that expedite looking for information, direct links to your most common transactions that register your activity on the app, a completely customizable home screen with information on your accounts and cards selected previously as favorites…
Directly access BBVA's net cash online banking service without having to sign any additional contracts and using your usual log-in passwords, keeping the same profiling as in the web version.
These are just a few reasons that have led the prestigious magazine Global Finance to recognize the BBVA net cash app, for the second year in a row, as Best mobile banking app for corporate clients and institutions in Western Europe.