The 50 Best BBVA Scholarship opens Mugaritz' kitchen to a Taiwanese student
Mugaritz celebrates its 20th anniversary, welcoming a special guest. For five weeks, Chef Andoni Luis Aduriz hosted the winner of the 50 Best BBVA Scholarship in his kitchen. The Taiwanese native, Jessie Liu, used her time in this gastronomic spot to soak up all she could from the team at Muguritz. Now, she will complete her training at Atelier Crenn in San Francisco for the second part of the scholarship.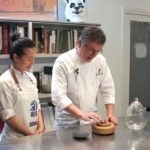 When Jessie Liu submitted her application for the 50 Best BBVA Scholarship, she didn't imagine that just a few months later she would find herself working hand in hand with the team of one of the best restaurants in the world. "When I sent the application for the scholarship I wasn't very confident. And after I entered in the first round I felt like I actually had the chance to win. When I went to the final three I felt like: I have to win this." And that's how it was. This promising chef-in-training had the opportunity to broaden her education with one of the best chefs in the world. For five weeks she took note of the culinary explanations of Andoni Luis Arduriz and his team, absorbing them like a sponge.
Her time in San Sebastian has reaffirmed Liu's passion for cooking. "When I decided that this is what I wanted to do with my life, my parents were really against it and it's hard when you don't get a lot of support from the family. But I kwon that my passion is still in the kitchen," she confesses.
Aduriz is able to attest to Jessie's participation and expressed satisfaction with her performance in the restaurant. "She leaves us with a lot, I think she came to us just like you should visit a home, with an open mind, willing to learn why we do what we do and how we do it," states the chef from San Sebastian. For Aduriz, training promising young people in the kitchen is essential, which is why he didn't hesitate to make his restaurant available to the 50 Best BBVA Scholarship. "Beyond growing and accumulating knowledge, it's important that all this is shared," he stressed.
Andoni Luis Aduriz, father of the great Mugaritz family
More than 300 apprentices – who today manage important gastronomic projects – have passed through the kitchen at Mugaritz, which celebrates its 20th anniversary this year. Clearly pleased, Aduriz comments on the legacy he will leave: "In the future, maybe an enterprise can be valued based on the amount of knowledge it is able to share, beyond the value it might have because of the resources it can generate."
Andoni Luis Aduriz and Jessie Liu, first 50 Best BBVA Schilarship winner - BBVA
Jessie now forms part of this legacy and part of the family comprised of Aduriz and his team. "The past five weeks at Mugaritz have been very intense. Every day we try our best in the kitchen. We work hard, we party hard. It's like a big family. I really loved it here," remarks Liu.
Beyond the techniques she has learned and the knowledge acquired, this young talent received good advice from her mentor: "Last time I talked to him in the garden and he was super nice. He talked to me how the restaurant started; he told me about the stories behind it and what he expects from the younger generation. He inspires me in many ways. He is like the parent of this whole family."
Now Jessie will travel to San Francisco to begin the second part of the scholarship. The young woman from Taipei will change the scenery of the Basque country for Atelier Crenn's prestigious kitchen. "Like before coming to Mugaritz, I try to be like a blank paper, and then I just try to absorb everything like a sponge." she explains. The French chef and owner of Atelier, Dominique Crenn, is one of Jessie's heroes. "She has always been my idol, she is very inspiring. I talked to her in person and she is just amazing."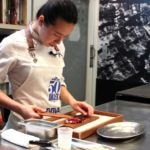 Jessie Liu, first 50 Best BBVA Scholarship winner - BBVA
Jessie's plan after her experience at Mugaritz and Atelier Crenn is to return to Taipei. But just for a short time: "I do have several restaurants in mind that I want to apply to but I'm not sure exactly where they will be. It could be anywhere in the world. I'm very excited and I feel very lucky to have this amazing opportunity. In the future I think there's more to come."
It's clear to Jessie that she will continue to learn and that it's important to experience as much as possible before embarking upon her own venture. Aduriz advised her as much: "I am from a generation that never entered a kitchen without cuisine studies. I started in a kitchen after 5 years of cooking school. For me it was a decisive moment to be in a restaurant learning in situ, real world learning. It's a bit like how a gastronomic professional would get a masters." He also added "It's vital to understand the reality behind the theories."
"For the people who pass through Mugaritz, in this case Jessie, it is also an incredible opportunity because they can see, in a very short period of time, a survey of gastronomy, culinary knowledge distilled. That's what's marvelous about this kind of training: to be custodians of knowledge, so this shared knowledge can continue to grow." Loud and clear, chef.