A Spanish game to help NASA process data from the Hubble telescope
NASA's Space Apps Challenge, one of the world's most popular hackathons, has, once again, awarded a group of Spaniards, in this case the time behind 'Galaxy Quest.' The project helps processing real data collected by the Hubble telescope through a 'gamification' process.  But not only that:  It is the first step in developing an artificial neural network using these data, and a new communications channel between NASA and users.  José Luis Martín-Oar, service designer at BBVA and one of the team's members, tells us everything about the project.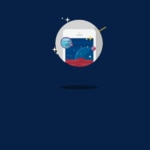 Son of a helicopter pilot and an aviation and space enthusiast since he was a child, José Luis didn't think have to twice to decide about signing up for NASA's challenge when he learned it would take place in Madrid.  On how he combines his professional activity in the financial sector with the world of space, he doesn't see it as a huge problem:  "service design can be applied to any field." For Martin-Oar, his work at BBVA and this type of projects, which he undertakes in his spare time, are complementary.
NASA held the first edition of the Space Apps Challenge in 2012. The contest takes place every year, drawing in thousands of teams from across the world. Last year, the contest drew 25,000 participants from over 180 countries across six continents. The teams are then given a weekend to come up with a solution to one of the challenges defined by the US Space Agency. Entrants are required to assemble cross-disciplinary teams consisting of 3 to 5 people.
The challenges that NASA proposes change from year to year.  "It's an exciting event, because it is held concurrently over the same weekend on different parts of the world," explains José Luis.  "When you are on the NASA platform uploading your documentation, you see teams from the United States, India, Japan ..."
"I was lucky enough to be part of a fantastic team," he says. A team that initially consisted of three designers and a 'data scientist.' An aeronautical engineer joined the team later.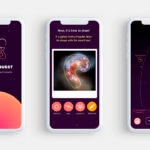 The project 'Galaxy Quest'.
Playing to classify galaxies
One of the complexities of the Space Apps Challenge is that teams have to choose which challenge they are going to tackle.  "We didn't know each other as a team. The first day, on Friday, we had to decide which challenge we were going to sign up for."  This was the first hurdle they faced.  Considering the team's capabilities, a blend of design and data analytics, they narrowed their options down to two.  The first was Golden Record, a project to recreate the records that the 'voyager' probes carry with messages intended for any other spacefarers that might find them.  The other was creating a game based on the images captured by the Hubble telescope.
Finally, they chose the Hubble challenge.  The result was the 'Galaxy Quest' project, "a space exploration game where users explore and classify galaxies," explains of José Luis.  "The game was very basic in this first iteration.  You were allowed to classify regular galaxies, irregular galaxies by drawing the shape, and also to identify the axes of symmetry of nebulae." For what purpose?  Actually, every anyone plays the game, they are helping process real data from the Hubble telescope. In turn, our idea was to use this data "to train an artificial neural network and teach it how to carry this process automatically in the future."
"NASA liked our project because we made a very visual and interactive use of Hubble's processed images, but, at the same time, we added the twist of using 'citizen science' to feed an AI database," he said.
In this project, data is fundamental.  Its most strategic objective, beyond the game itself, is to open a new channel of communication between NASA and a user base.
What's next?  NASA recognizes the selected projects, and invites the teams behind them to visit the Kennedy Center. The invite does not include travel costs, though.  That's why they are currently reaching out to try to find a sponsor that will help them get there.