Adam Zagajewski, the poet without a homeland who writes to understand the world
If there's something Adam Zagajewski understands, or rather, doesn't understand, it's the notion of borders, because the city limits of the place where he grew up are now very different. The Polish poet and essayist, several short-listed as a candidate for the Nobel Prize, discussed this idea of blurred homelands with Juan Manuel Bonet, Director of the Instituto Cervantes, during a conversation on European culture held at the BBVA Foundation to mark the 20th anniversary of the Sibila magazine.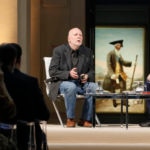 Culture, music and poetry were the main topics of a celebration involving one of the most relevant voices in contemporary literature. Zagajewski was born in Leopoli, which is currently part of Ukraine, but at the time it belonged to Poland. He lived there for the first four months of his life. Fleeing persecution from the Soviets, his family moved to the industrial city of Gliwice, which initially was German and later Polish. For a long time, he had the feeling that he didn't have a place to call home because he felt the deep loss of the city where he was born. Although he goes back often, it feels strange to him.
"I realize how precarious my situation is. I don't live anywhere," says the poet in his 1995 essay Two Cities. Rootlessness and the cities he left behind are the central themes of Zagajewski's prose, as well as conflict. He was born at the end of World War II and although he didn't personally witness any of its horrors, he did suffer the consequences.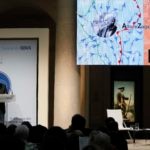 "Germany is a source of hope. It's a country that has reconciled with its past. Today, I can talk to Germans - who know I was born in 1945 and am Polish - as friends, not adversaries," the poet said in his conversation with Bonet.
Zagajewski also reflected on art and the trauma of the Holocaust. When the Director of the Instituto Cervantes asked him if he agreed with Theodor Adorno that poetry was not possible after Auschwitz, Zagajewski replied: "If we didn't write poetry after the Holocaust it would be as if Hitler had won, or that the Nazis were right. I also think that it's a very difficult topic to discuss, but that's precisely why there are poets, to talk about the hard things. Being a poet is not just writing about the spring or being in love. We write to understand the world."
"If we didn't write poetry after the Holocaust it would be as if Hitler had won, or that the Nazis were right
The Polish author's comings and goings did not end in Gliwice. In 1963, he moved to Krakow and later he went into exile in Paris at a time when the Communist regime prohibited his writing. But that was another story because his exile was more related to love than censure. "I moved to Paris for a woman, but I don't claim to be a hero. It was the 1980s and there was a martial law in force in Poland. Meanwhile Paris was the exact opposite: freedom, leaving behind a gray, suppressed country, but a country of educated people, despite everything," Zagajewski clarified.
In Paris, Zagajewski experienced freedom, but Krakow is the city that most feels like his, where he studied at university for the first time and was "fascinated", not just by the German- and Italian-influenced architecture, but also by its lifestyle. Now he defines it as "a renewed city that maintains its essence and authenticity."
Zagajewski's story is that of all the places where he has lived  - of nostalgia and rootlessness, divided borders, suitcases and annexed territories. The story also speaks to his ideal city, one that only exists in his imagination and is "built according to the principles of Chopin's preludes."